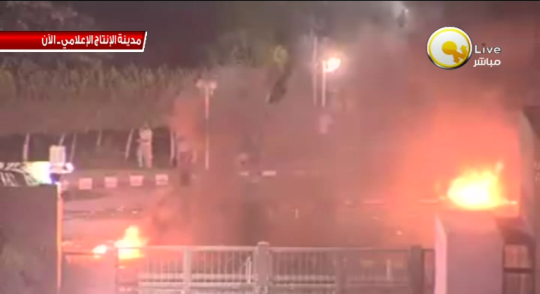 Clashes between supporters of deposed Islamist President Mohamed Mursi and the security forces at the media production city on Friday, August 2, 2013 - snapshot from television
CAIRO, Jul 5 (Aswat Masriya) - An Egyptian criminal court sentenced 23 Muslim Brotherhood members to 10 years of maximum security prison on Sunday for attempting to storm the Egyptian Media Production City (EMPC) in 2013.
A judicial source said only 11 of the people convicted were present during the session, while the rest were tried in absentia. The court cleared 13 others in the same case.
Prosecutors had charged the defendants with creating chaos and disturbing peace, among other charges.
The attempt to storm the EMPC, Egypt's media and information centre dates back to August 2013, taking place after the dispersal of two encampments set up to show support for former president Mohamed Mursi.
The Brotherhood politician was ousted by the military following mass protests against his rule in July 2013.
The dispersals left hundreds of protesters dead in what was described by Human Rights Watch as "the most serious incident of mass unlawful killings in modern Egyptian history."
They were followed by several incidents of violence, taking place across the country.
Egypt listed the Brotherhood as a terrorist organisation in December 2013 and insists it is behind the stringent wave of militancy which has targeted security personnel since the ouster of former Islamist President Mohamed Mursi.
The Brotherhood continuously denies the accusations.