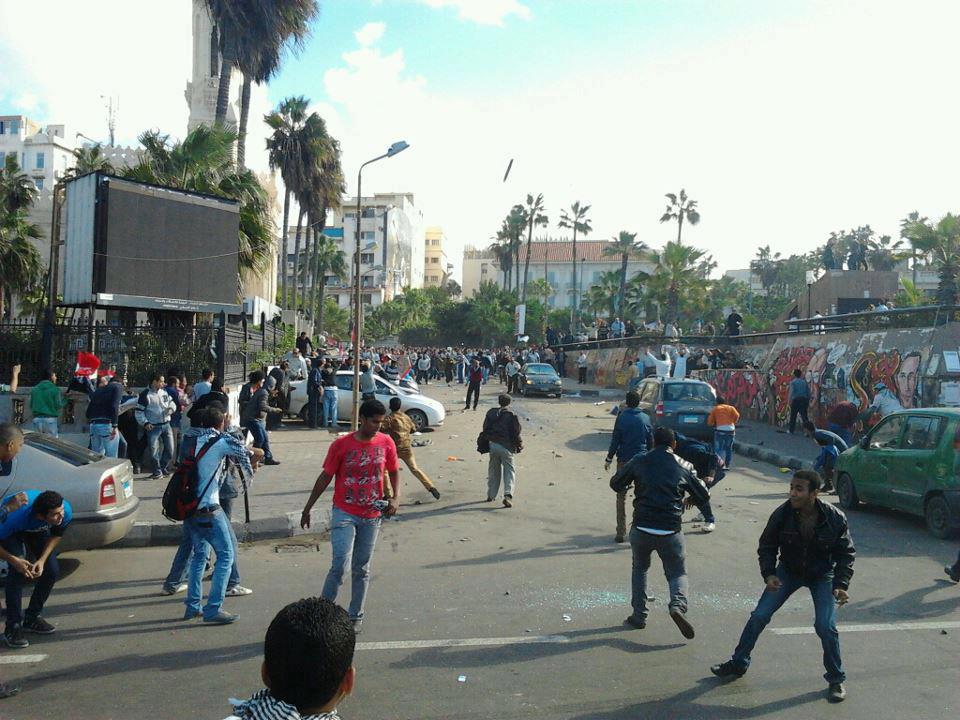 Clashes in Alexandria between supporters and opponents of President Mohamed Mursi - photo from the Popular Current Facebook page
Firemen on Sunday extinguished a fire that broke out in the ground floor of Alexandria's Primary Court where the archives are located.
The fire began after protesters had broken into the court's headquarters and lit some court documents on fire in the street, Aswat Masriya correspondent reported.
Clashes were renewed between protesters and central security forces on Sunday afternoon in front of Mansheya's court complex in Alexandria after a criminal court had said it will not look into cases of killing protesters during the 2011 uprising.
Clashes are still ongoing from al-Raml Square to Mansheya Square although the number of protesters has declined.
Security forces tear-gassed the protesters in an attempt to disperse them.
The protesters torched two central security forces vehicles and one police vehicle.
Footage on Reuters television revealed that an armored police car almost ran over a protester which brings memories of police vehicles chasing demonstrators during the uprising.
These scuffles come days before massive protests scheduled for the coming Friday on the second anniversary of the January 2011 uprising that toppled former president Hosni Mubarak.