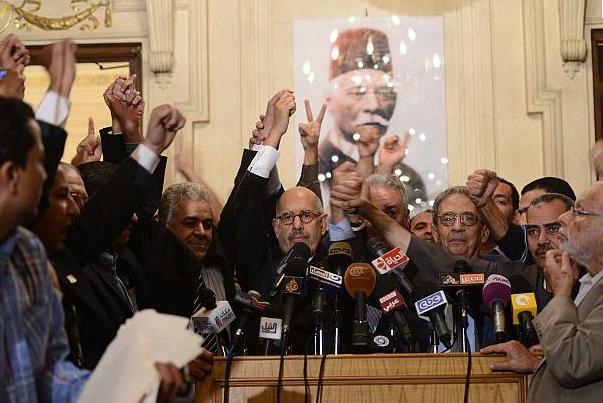 National Salvation Front - photo from Facebook
Prosecutor-General Talaat Abdullah has referred on Thursday a report against National Salvation Front (NSF) leaders – accusing them of supporting vigilante groups to overthrow the government – to the Supreme State Security Prosecution for investigation.
The report, filed by lawyer Essam Khalil, accuses Constitution Party head Mohamed ElBaradei, Popular Current leader Hamdeen Sabbahi, Conference Party head Amr Moussa, Constitution Party member Gamila Ismail, Wafd Party head El-Sayed El-Badawi and other figures in the NSF for inciting the public against President Mohamed Morsi.
Khalil said in his report that the NSF leaders support groups such as the 'Black Bloc' that call for the fall of the Muslim Brotherhood rule, by providing "political cover to their terrorist actions."
He also said that the NSF leaders are "plotting to kill" youth members of the Muslim Brotherhood.
In addition, Khalil's report accused the NSF leaders of "purposefully destructing the state's institutions by mobilising thugs against the Egyptian police."
The NSF leaders aim to stir up unrest and insecurity in Egypt and damaging the national economy, Khalil stated in the report.
Protests and riots erupted in Egypt on 25 January with the second anniversary of the revolution and the announcement of the Port Said football verdict a day later.
The clashes in several Egyptian cities over the past two weeks, mainly Port Said and Suez, left over 50 people dead and hundreds injured.
The NSF has been a prominent opposition group against Morsi's government and has refused his call for dialogue last week in the aftermath of the deadly events.
The NSF and several opposition groups have called for mass protests on Friday to 'topple the regime' in an escalation to press for fulfilling their demands that include dismissing the cabinet and the general prosecutor.