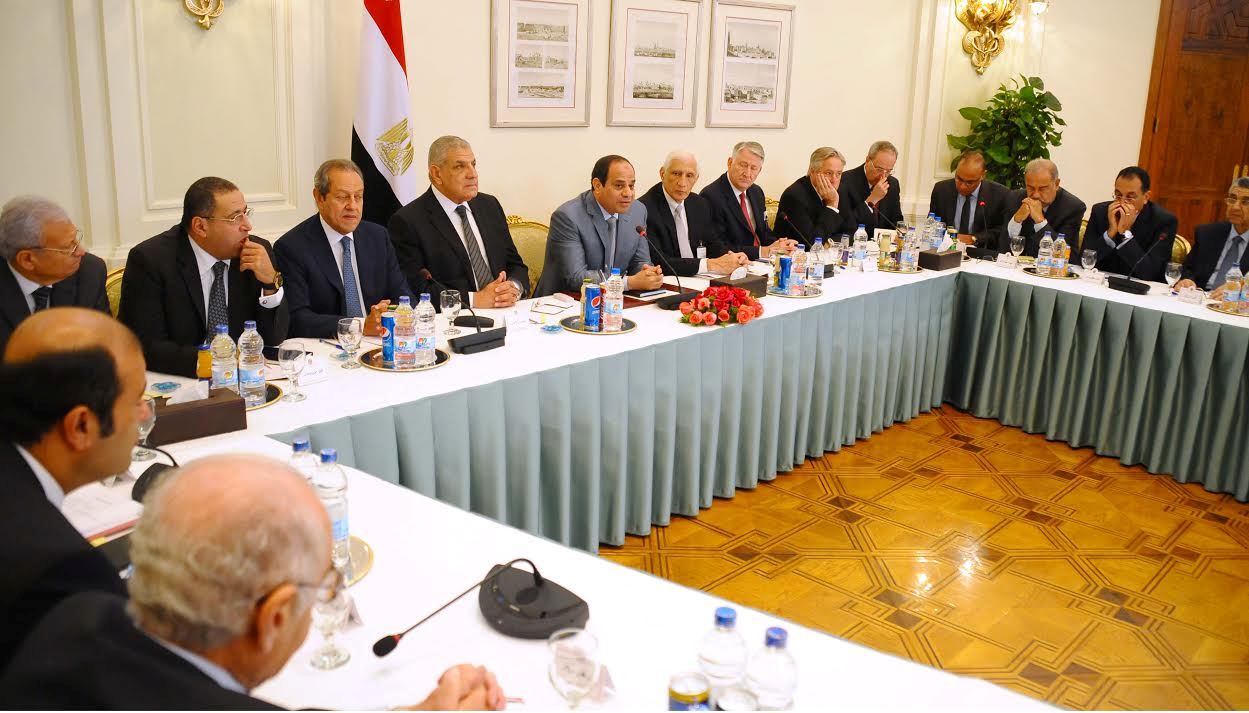 President Abdel Fattah al-Sisi meets with the American economic delegation, on Monday, 10 October, 2014. Aswat Masriya
CAIRO, Nov 10 (Aswat Masriya) - Egypt's parliamentary elections are scheduled to be held in the first quarter of 2015, before launching the international economic summit organised by Egypt in the resort town of Sharm al-Sheikh, President Abdel Fattah al-Sisi said Monday in a meeting with an American economic delegation.
The delegation included 160 CEOs of more than 60 United States firms operating in the fields of health, energy, electricity, agriculture, infrastructure, tourism, telecommunications, and others, according to a cabinet statement released Saturday evening.
During the meeting, Sisi urged the U.S. to evaluate the situation in Egypt from an Egyptian perspective, not an American one, adding that democracy is an extended process which cannot be reduced to a means to reach power to be abandoned afterwards along with violation of the law and ignoring the will of the Egyptian people.
According to a presidential statement, Sisi said that Egypt's efforts in "fighting terrorism" in Sinai are not in Egypt's interests only, but they also contribute towards the stability of the whole region. If Sinai is left to become a "hotbed of terrorism and extremism", it would limit Egypt's ability to commit to its international obligations, reflecting negatively on the Egyptian - Israeli peace agreement, he added.
Meanwhile, the representatives of the American firms called for the need to increase cooperation between joint economic entities in the two countries, including the Egyptian-American Business Council.
Earlier in October, U.S. Secretary of State John Kerry met with Sisi during the former's visit to Cairo to attend the Gaza reconstruction conference, held to raise funds for the strip's reconstruction after the latest Gaza war last summer.
Kerry had told Sisi then that a delegation of American investors is scheduled to visit Egypt in November to explore investment opportunities in the Middle Eastern country.
The United States delivered Apache helicopters to Egypt late October, the state-owned news agency MENA reported U.S. State Department spokeswoman Jen Psaki as saying.
"Egypt is an important country within the context of international efforts to fight the Islamic State 'Daash'," Psaki said.
The U.S. has announced that it will supply Egypt with these military aircrafts after it concluded a deal with President Abdel Fattah al-Sisi during his visit to the U.S last month.