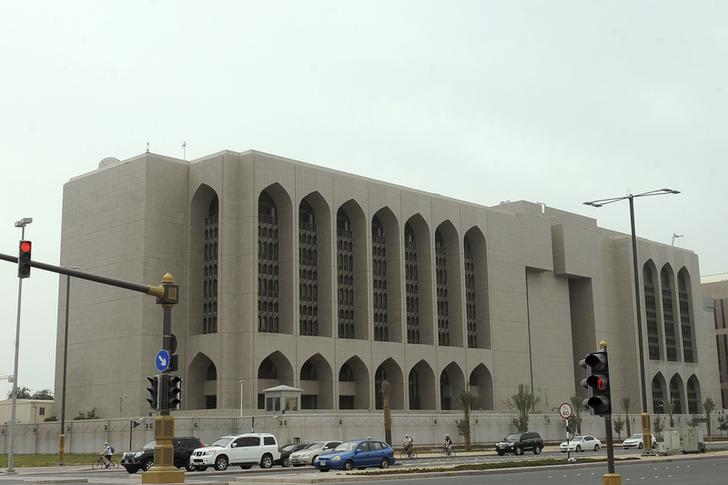 Vehicles stop at a red light in front of the main branch of UAE Central Bank in Abu Dhabi, January 29, 2013. REUTERS/Ben Job
DUBAI (Reuters) - United Arab Emirates banks have been banned from doing business with some Islamist groups including the Muslim Brotherhood, their representative said, as the country's central bank won powers to freeze suspect accounts for up to seven days.
The government said it was stepping up efforts to cut off financing to groups it classifies as terrorist. The move was announced in a decree published on the prime minister's website, which did not mention specific groups.
Asked about the new rules, the head of the UAE Banks Federation said lenders had been told not to do business with the UAE branch of the Egypt-based Brotherhood and with al-Islah, a local Islamist group banned in the UAE for alleged links to the Brotherhood.
"This is enforcing anti-money laundering. Banks have to look to this legislation and comply. They're considered terrorist groups," Abdul Aziz al-Ghurair told reporters on Monday on the sidelines of a banking conference in Dubai.
On Saturday the UAE designated 85 organizations as terrorist groups including the Brotherhood, Islamic State - which has taken over swathes of Syria and Iraq - and other Shi'ite militant groups such as Yemen's Houthi movement.
The Brotherhood has been a source of friction between Gulf Arab states, with the UAE, Saudi Arabia and Bahrain having recalled their ambassadors from Doha over Qatar's support for the group.
That eight-month diplomatic standoff was ended on Sunday.
Authorities in Cairo designated the Brotherhood a terrorist group last December, several months after the army removed one of the organization's leading members, Mohamed Mursi, from the presidency.
The UAE has sought to reinforce anti-money laundering regulations in recent years. Stiffer fines and jail terms for offenders form part of an amendment to a 2002 law awaiting approval by the country's ruler, while banks have ramped up staffing.
Authorities have cracked down on al-Islah and jailed scores of Islamists convicted in January of forming an illegal branch of the Brotherhood. They have also frozen the bank accounts and assets of detainees and family members after their arrest.
(Reporting by Tom Arnold, David French and Yara Bayoumy; editing by John Stonestreet)