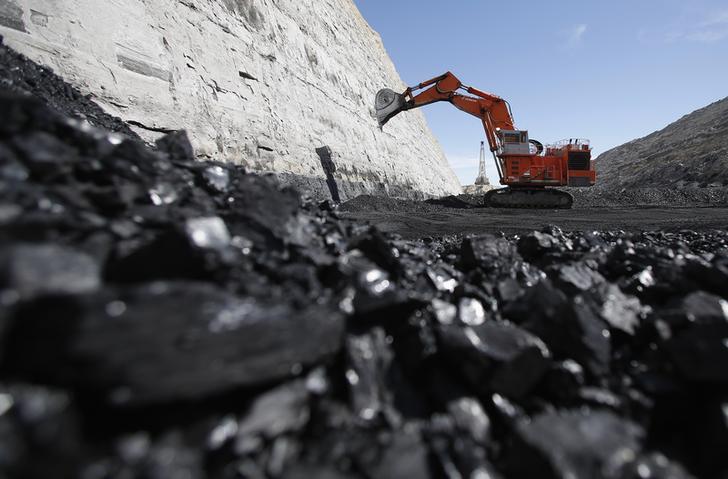 Coal is excavated at the Jim Bridger Mine, owned by energy firm PacifiCorp and the Idaho Power Company, outside Point of the Rocks, Wyoming March 14, 2014. REUTERS/Jim Urquhart
CAIRO, Mar 16 (Aswat Masriya) - The Cairo-based Orascom Construction said banks have offered up to $1.95 billion (14.9 billion Egyptian pounds) in syndicated loans for the development of a power plant in Egypt, the company said in a statement on Monday.
Orascom signed an agreement with the Egyptian government as part of a consortium that also includes the Emirati International Petroleum Investment Company.
This agreement comes in continuation of an existing initial agreement Orascom signed with the government last year to develop the power plant, which will be coal fired and will generate 3,000 megawatts of power.
The cost of the first phase of two phases of developing the privately-owned power plant is forecast to be $3 billion (22.9 billion Egyptian pounds).
"Funding will be made up of a mixture of debt and sponsor equity," Orascom said.
The company added that the source of the debt will be Egyptian, Gulf Cooperation Council and international financial institutions, in addition to export credit agencies.
Orascom Construction Chairman Nassef Sawiris was cited in the statement as saying that the company intends to "undertake a number of large projects not only in power generation, but also across various infrastructure and industrial sectors."
The Egyptian government has signed deals, in numerous sectors including energy and construction, worth billions of dollars over the past three days, during the Egypt Economic Development Conference.
In total, Egypt has collected $72.5 billion in investments, aid, and loans during the major conference, according to figures provided by Egypt's Prime Minister Ibrahim Mehleb at the closing of the conference.