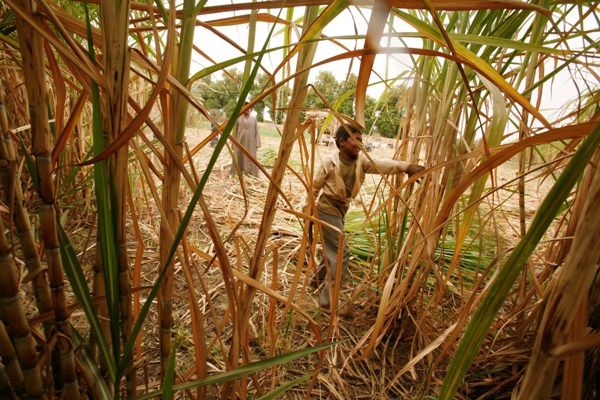 A farmer harvests sugar cane in a village near Aswan April 26, 2009. REUTERS/Asmaa Waguih
CAIRO, Apr 20 (Aswat Masriya) - The Egyptian government is committed to the stability of sugar prices within the local market, in an effort to protect local production from the internationally fluctuating sugar prices, the prime minister said on Monday.
Egypt's Trade and Industry Ministry imposed on Sunday a 20 percent tariff on imported sugar for 200 days, with a minimum tariff of 700 Egyptian pounds per tonne.
Prime Minister Ibrahim Mehleb said in a statement by the cabinet that the tariff aims to protect local production from any "threats", amid a drop in sugar prices in the international market which could lead to a surge in sugar imports within the domestic market.
Mehleb held on Monday a meeting with the ministers of trade and supply as well as the head of Federation of Egyptian Chambers of Commerce to look into the issue of sugar production in Egypt.
Mehleb described sugar as a "strategic" good for citizens in the statement.
Sugar is among the subsidised goods by the state in Egypt.