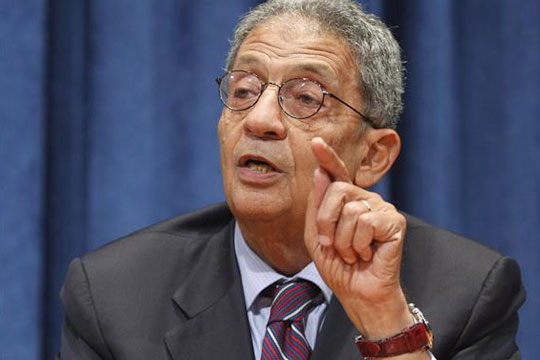 Potential presidential candidate Amr Moussa - photo from REUTERS
Egypt's former presidential candidate and diplomat Amr Moussa said on Monday that giving citizens a right pertaining that they can arrest people, even if against thugs, adds to Egypt's chaos.
"This issue takes the situation back to putting Egypt under the guardianship of individuals and groups who might find in this right means to their illegitimate wish of intruding in people's lives," the former Arab League Secretary General said as reported by state news agency, MENA.
Moussa asked the prosecution to take back that decision, saying, "What is going on is more than enough, applying Article 37 of the Procedural Law requires an explanation, so that it does not become an excuse for negative alteration of its meaning."
The Salvation Front, Egypt's biggest opposition bloc, and a number of Political Parties denounced the prosecution's decision to grant the right of arrest to citizens, describing it as a political cover for Islamist militias.
Meanwhile, the general prosecution issued a statement on Monday saying that its earlier statement did not grant ordinary citizens the right to arrest outlaws; it only entailed notifying the citizens of their constitutional right to turn in suspects who are caught in the criminal act to the authorities.
The statement stressed, "The right to arrest is granted by law to some government officials. The Justice Minister is authorized to grant this right to others under certain circumstances."