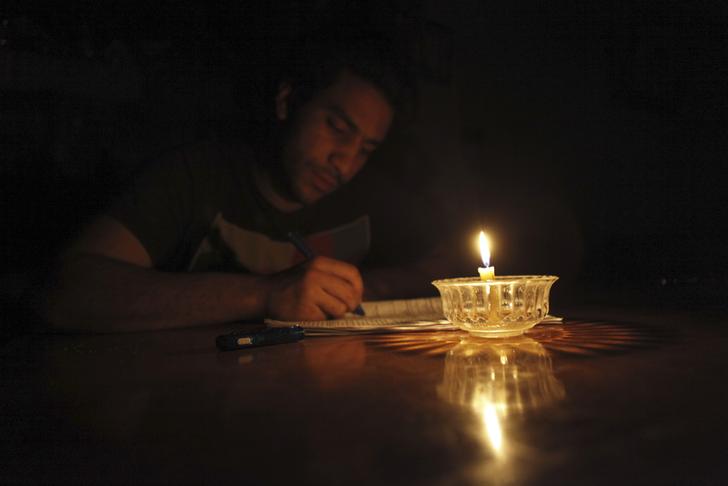 Mostafa Khaled, 20, studies by candlelight for his early morning exams during a power cut in Toukh, El-Kalubia governorate, about 25 km (16 miles) northeast of Cairo May 26, 2013. REUTERS/Amr Abdallah Dalsh
CAIRO, July 30 (Reuters) - Egypt raised electricity prices on Thursday for mid-to-high household usage by an average of 19 percent for the 2015/2016 fiscal year, the electricity ministry said.
The government began raising electricity prices last year as part of a five-year plan to reduce subsidies.
Low-end household consumption was not affected by the latest rises.
Mid-level household usage was the most affected by the latest price rises, with prices for consumption in the 201-350 kilowatt hour (kWh) per month band rising by just over 27 percent. Household consumption in the next three highest bands rose by 19, 18, and 13.5 percent respectively.
Egypt is trying to repair its finances while weaning the population off a decades-old subsidy regime that has often most benefited the country's highest income earners.
Artificially low prices for energy mean government appeals to conserve electricity have gone unheeded. A shortage of natural gas, which is used by Egypt's power stations to generate electricity, has led to a rationing of gas supplies to much of the country's domestic industry that has at times crippled production.
The government slashed energy subsidies in July last year, raising energy costs by up to 78 percent. (Reporting by Shadi Bushra, Omar Fahmy and Eric Knecht; Writing by Yara Bayoumy and Eric Knecht; Editing by Elaine Hardcastle and Mark Potter)