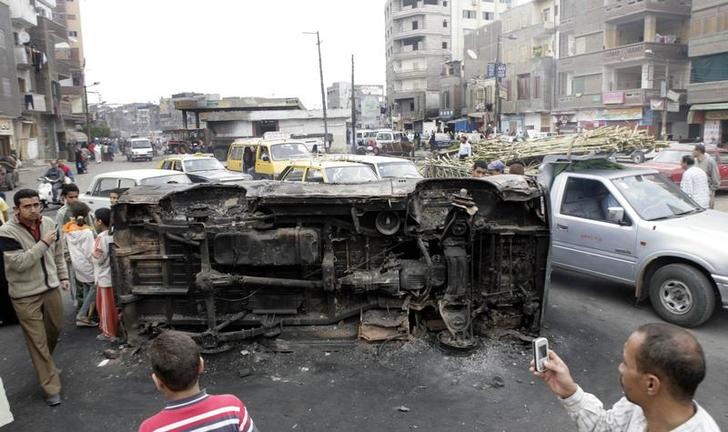 People stand near a burnt vehicle in Mahalla city, about 110 km (68 miles) north of Cairo, April 7, 2008. Egyptians angry with the government about high prices set fire to shops and two schools in a Nile Delta textile town on Sunday after police thwarted plans for a general strike and countrywide protests. REUTERS/Nasser Nuri
CAIRO, Apr 28 (Aswat Masriya) - Egypt's Supreme Administrative Court decided on Tuesday to send to retirement any public employee who strikes or holds a sit-in at a work place, stalling public facilities.
The court's decision is based on the teachings of Islamic sharia, the court said in a statement, citing an Islamic rule which puts avoiding harm before pursuing benefits.
In the details of its ruling, the court said that sit-ins are not similar to protests or assemblies, as they involve stalling work yet while employees hold on to their positions.
The decision is final and cannot be challenged.
The supreme court referred to the 1966 International Covenant on Economic, Social and Cultural Rights, which Egypt signed and ratified. It said that though Egypt has vowed to preserve the right to striking, as per the covenant, this right could only be exercised if it complies with Islamic sharia.
"If strikes cause harm to those dealing with the public facility, then Islamic sharia does not allow such a path as it harms citizens," the court said in its statement.
The court had referred three officials at the Menoufia governorate to retirement for striking and stalling the operation of the facility where they work. It also postponed the promotion of 14 more officials involved in the same strike for two years.