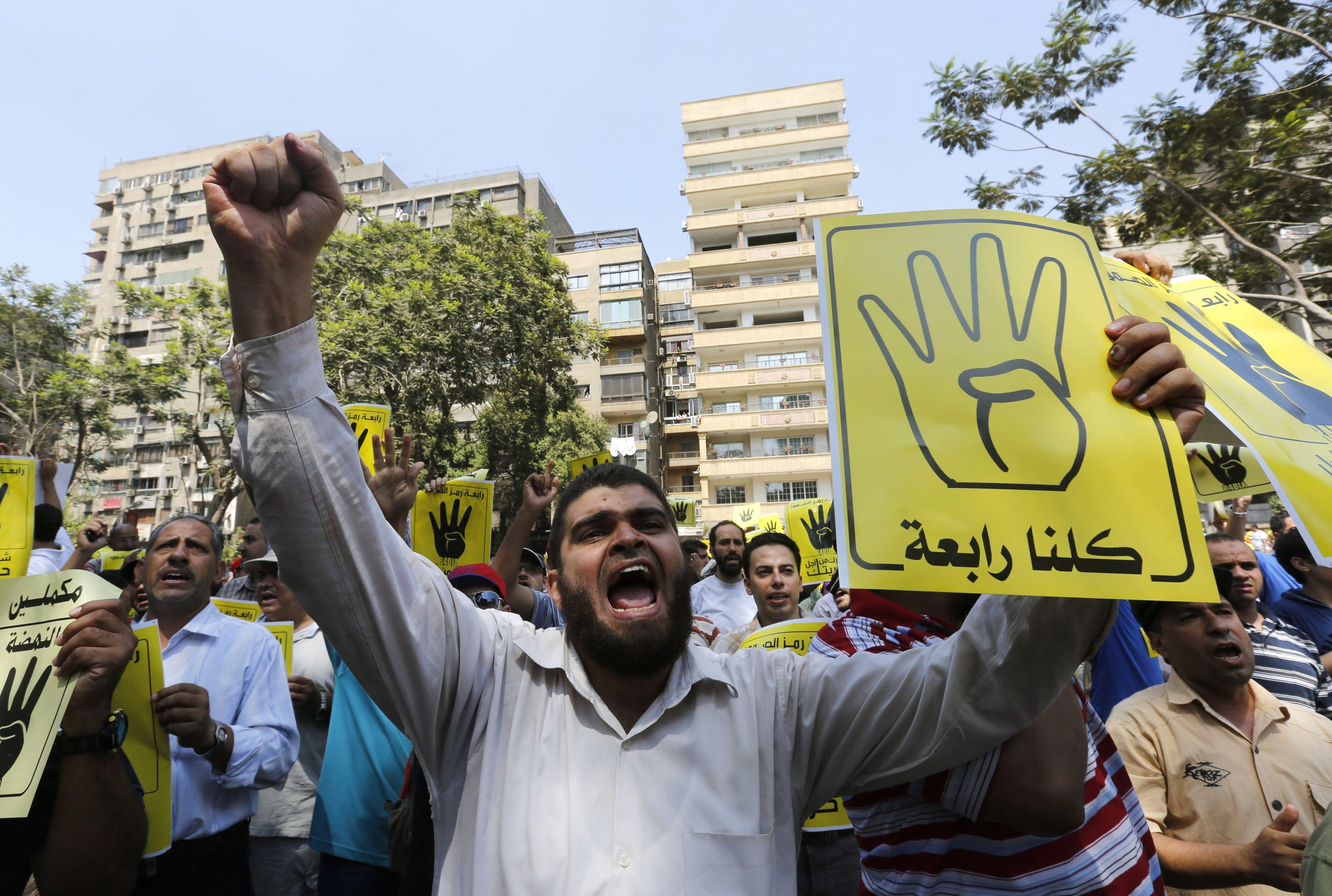 Members of the Muslim Brotherhood and supporters of ousted Egyptian President Mohamed Mursi shout slogans against the military and the interior ministry as they make the "Rabaa" or "Four" gesture, during a protest march towards Mohandessin in Cairo August 30, 2013. REUTERS/Louafi Larbi
Police arrested 230 people in clashes that broke out in several cities across Egypt Friday as Islamists marched against the interim government, Egypt's interior ministry said.

Eighty-one were arrested in Sharqiya governorate, in the Nile Delta, after clashes erupted between supporters of deposed president Mohamed Morsi, mainly Muslim Brotherhood loyalists, and other citizens, including street vendors.

Another 70 were arrested in Daqahliya governorate, also on the Nile Delta, when similar clashes took place.

The ministry said in a statement that it also arrested Muslim Brotherhood members, including nine in Ismailia as they were "convening to plan demonstrations."

Police arrested another two in Sohag, Upper Egypt, who had "bags of ration goods and admitted they were going to distribute them on low-income [citizens] to entice them to demonstrate and stage attacks against police and government institutions."

In addition, police arrested Gamal Mahmoud, deputy secretary of the Muslim Brotherhood's Freedom and Justice Party (FJP) in the city.

The ministry also said it arrested five in Beheira, saying they were members of the Brotherhood.

Meanwhile, 23 were arrested in Gharbiya, 12 in Damietta, 18 in Assiut, five in Alexandria and four in Giza during clashes.

Islamist pro-Morsi demonstrators took to the streets Friday across Egypt to protest what they say was a "coup" against Morsi, Egypt's first democratically-elected president. He was deposed by the army 3 July amid mass popular protests.

However, none of the rallies came close to approaching the hundreds of thousands-strong demonstrations organised by the pro-Morsi National Alliance to Support Legitimacy earlier.

Seven civilians were killed in clashes that broke out at several rallies.

Since the deadly police crackdown on pro-Morsi sit-ins in Cairo and Giza 14 August, over 1,800 people have been arrested, including many leaders of the Muslim Brotherhood and Islamist figures.