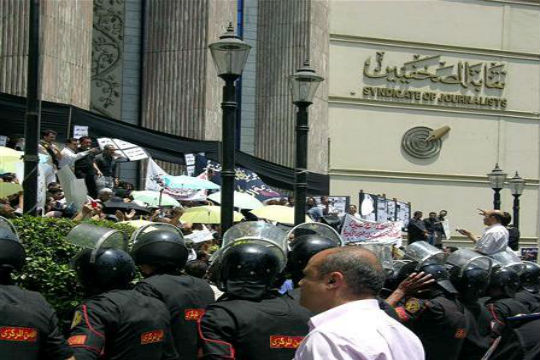 (Archive) - A protest in front of the Press Syndicate building in downtown Cairo - photo from Reuters
CAIRO, Oct. 27 (Aswat Masriya) - The Committee to Protect Journalists (CPJ) called on Egyptian authorities to release three journalists arrested within less than a week and to "stop trampling over the rule of law," in a statement on Monday.
The latest of the three arrests is that of Mahmoud Mostafa. He was stopped at Cairo Airport on Friday as he was going to board a flight to London on student visa to pursue studies in the United Kingdom.
While speaking to his wife on the phone, the call was cut off just after he told her that he was detained for "unknown reasons."
The motive for Mostafa's arrest "is unclear," CPJ said, adding that the ministry of interior has denied any knowledge of Mostafa's whereabouts, according to media reports.
A security source told Aswat Masriya that Mostafa may have been arrested based on a malicious complaint filed by a work partner. He added that an investigation is underway to verify the allegations against him.
Mostafa's wife, Nevine has reached out to the state's top prosecutor, the Cabinet and the press syndicate, which has published her complaint on its website. She told them that she holds government authorities responsible for Mostafa's personal safety.
According to the Egyptian press syndicate, he works for al-Nahar private newspaper. Syndicate board member Khaled Elbalshy, who heads the freedoms committee, told CPJ that Mostafa is a member of the press syndicate.
The Egyptian press syndicate called on Prosecutor General Nabil Sadeq to intervene to secure Mostafa's immediate release and to notify the syndicate of his whereabouts as a "precaution".
Days before, the syndicate issued another statement with the same request for two other journalists, Hesham Gaafar, the chairman of Mada Foundation NGO and Hossam el-Din el-Sayed, both members of the syndciate.
In reference to all three journalists, the syndicate said the arrests violate procedure and articles in the 2014 constitution, citing these laws and articles.
Gaafar was arrested on Wednesday from the NGO's premises after security forces raided it, then he was led to his home which was searched. His arrest was condemned by many including Amnesty International, which described it as "unlawful".
His whereabouts and the charges he faced were unknown until Saturday, three days after his arrest. He faces charges of receiving "international" funds "to harm Egypt's national security" and belonging to a banned organisation, lawyer Mohamed al-Baqer who is involved in the case, told Aswat Masriya on Sunday.
Gafaar was interrogated for four days, at times up to eight hours in a row, Baqer said. He said on his Facebook page, where he told Aswat Masriya he will be posting updates, that Gafaar was moved to al-Aqrab maximum security prison, describing the move as a "case against freedom of expression."
The day after Gafaar's arrest, security forces arrested Sayed, who was taken from his home at dawn. He faces the same charges as Gafaar and according to Elbalshy, he is being investigated in the same case as Gaafar.
The investigation with the pair will resume on Tuesday, the security source told Aswat Masriya.
The New York-based CPJ said in June that the state's imprisonment of journalists is at "an all-time high," citing at least 18 journalists behind bars in Egypt because of their work.
Yet, top Egyptian officials have repeatedly denied that journalists in the country are being targeted.
In September, President Abdel Fattah al-Sisi said in a CNN interview that "we have unprecedented freedom of expression in Egypt. No one in Egypt can bar anyone working in media or journalism or on TV from expressing their views," he said.