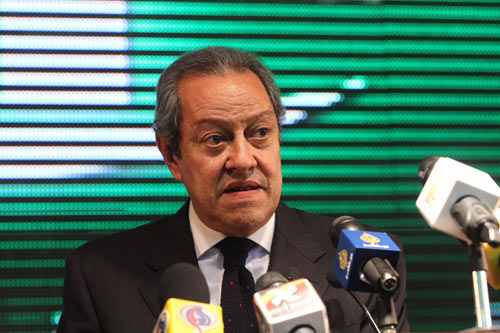 Tourism Minister Mounir Fakhri Abdel Nour
By Nayrouz Talaat
The Ministry of Trade and Industry said that solving financial problems of small and medium enterprises (SMEs) will be through preparing proper feasibility studies and successful risk management plans in a bid to find solutions that will be "untraditional".
"There is a necessity to exploit all funding programmes of the Social Development Fund (SDF) to finance SMEs," Minister of Trade and Industry Fakhri Abdul Nour said in a meeting with the Egyptian Junior Business Association (EJB).
The small and medium sectors are considered a key factor in giving a push to the local business during the current situation and facing unemployment, Abdul Nour added.
The unemployment rate in Egypt increased to 13.3 per cent in the second quarter of 2013 compared to 13.2 per cent in the first quarter of 2013, according to the Central Agency for Public Mobilisation and Statistics (CAPMAS).
The board chairman of Egyptian Junior Business Association (EJB) Hossam Farid said during the meeting that the association has made business studies on 11 sectors that include industry, transportation, agriculture, environment, banking, and IT.
Micro, small, and medium enterprises contribute around 80 per cent of total value added and attract 47 per cent of total investments. Moreover, their input to the country's exports reached around 20 per cent, according to the EJB.
Farid added that the main goal of the studies is to review the obstacles facing entrepreneurship and seeking co-ordination with the ministry of Trade and Industry to support all business associations in Egypt.
Strict regulations are being set by the trade and industry ministry in the forthcoming period to avoid exploitation of public sector ranks in doing personal interests in private sectors, which is the main catalyst for corruption, the ministry said.