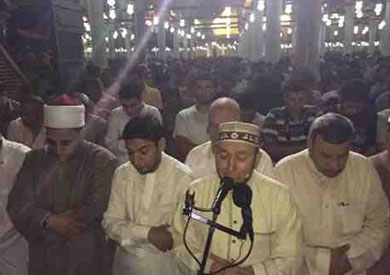 Egyptian religious preacher Mohamed Jibril (second from right). Photo from Al Shorouk
CAIRO, Jul 15 (Aswat Masriya) - Egyptian Islamic preacher Mohamed Jibiril was stopped from boarding a flight to the United Kingdom on Wednesday "as per instructions from a security body," airport security sources told Aswat Masriya.
This comes one day after the ministry of religious endowments banned Jibril from leading prayers in mosques as an Imam or from delivering any religious lessons.
The ministry filed a complaint against him for making use of prayers for political purposes.
During the Islamic fasting month of Ramadan, imams leading paryers at night read supplications out loud. Jibril is known for his nice voice and poetic manner of reading out supplications. On Monday night, made prayers against "oppressors" and those who corrupt.
Security sources at the airport said while Jibril was finalising his travel procedures, it emerged that his name was on a travel ban list. He was notified of the decision and his bags were removed from the plane.
He was allowed to leave without arrest, the sources added.