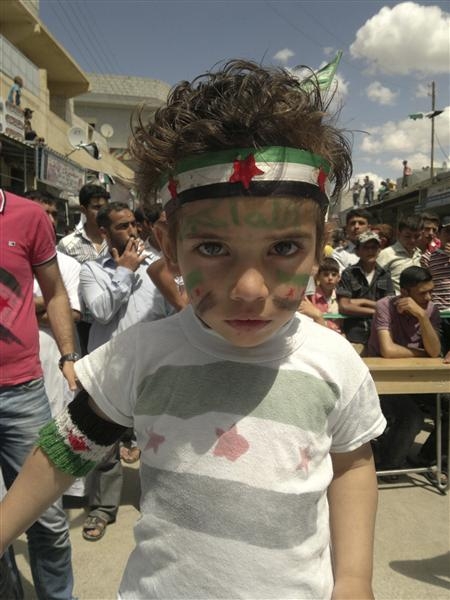 A demonstrator wearing a head band and t-shirt with the image of the opposition flag takes part in a protest against Syrian President Bashar al-Assad after Friday prayers in Maraa, near Aleppo, May 25, 2012. Handout/REUTERS
Human Rights Watch accused Egypt on Monday of providing Syrian regime forces with BM-21 Grad multi-barrel rocket launchers to deliver cluster munitions in attacks near the cities of Idlib and Latamneh in December.
"The 122mm cluster munition rockets bear the markings of the Egyptian state-owned Arab Organization for Industrialization and an Egyptian company called Sakr Factory for Development Industries", Human Rights Watch said on its website.
No information is available on how or when Syria acquired these cluster munitions, and the Egyptian government has denied the allegations that Egyptian-made weapons are being used.
This incident signifies the first use of ground-based cluster munitions by the regime, despite previous reports on the use of air-dropped cluster bombs, according to the internationally-prominent rights watchdog.
Syria is currently "escalating and expanding" its reliance on cluster munitions despite international condemnation, the internationally-prominent rights watchdog said. Human Rights Watch in November called on Syria to stop using cluster bombs after at least 11 children were killed in an air strike on the town of Deir Assafir south of Damascus.
Several international human rights organisations have accused Syria of using cluster bombs, which can kill or maim even after a conflict is over. On 6 November, the UN's top political official Jeffrey Feltman said there was credible evidence that the Syrian army is using banned cluster bombs in its war with rebels.
Damascus did not ratify the international convention that bans cluster munitions and requires the clearance of contaminated areas and assistance to victims.
On 2 January, the UN High Commissioner for Human Rights (OHCHR) said that the death toll in the ongoing civil war in Syria has surpassed 60,000 since the protests erupted against the regime of President Bashar Al-Assad in March 2011.
The website of UN News Centre stated that there is a possible underestimation of the real number of dead people as the investigation teams were not allowed to enter the Syrian territories during the 22-month conflict, vowing to hold further statistics in case of future improvements in security conditions.