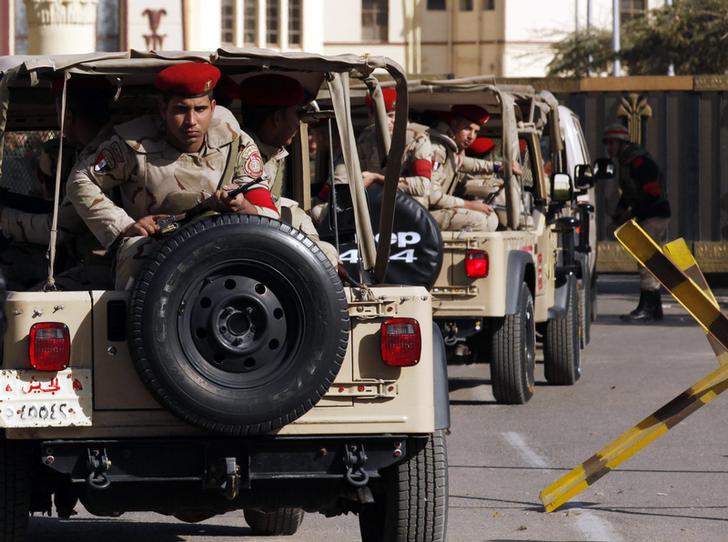 Soldiers in a convoy secure a military funeral ceremony of security personnel killed in attacks in Sinai, outside Almaza military airbase where the funerals were held, in Cairo, January 30, 2015. REUTERS/Asmaa Waguih
CAIRO, Jul 1 (Aswat Masriya) - Thirteen "terrorists" were killed by Egyptian security forces after a gunfire exchange in Cairo's October 6 suburb on Wednesday, a security source said.
This comes in tandemn with ongoing clashes between security forces and militants in North Sinai.
The 13 were killed in a raid on headquarters that they were using to hide, the security source added.
They include Muslim Brotherhood lawyer Nasser al-Hafi and leading figure Abdel Fattah Ibrahim, the deputy director of investigation in Giza, Magdi Abdelaal said.
On Tuesday, three "terrorists" were killed in the same neighbourhood while trying to bomb a car in the vicinity of the October 6 Police Station, security sources said.
Meanwhile, attacks on security checkpoints and facilities have left 60 casualties among security personnel, ranging from deaths to injuries, a security source said.
The attacks were followed by clashes with militants. So far over 30 militants have been killed in the clashes, the source added.
The Sinai-based militant group Ansar Bayt al-Maqdis claimed responsibility for the attacks. The group pledged allegiance to the Islamic State fighters in Syria and Iraq last November, changing its name to Sinai Province.