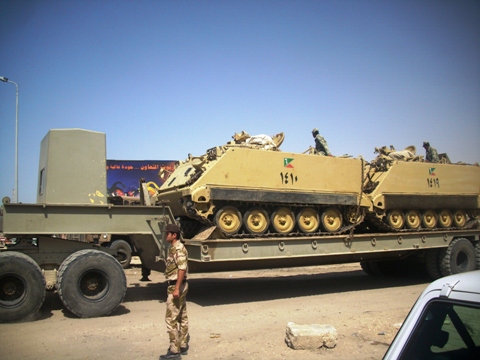 International counter terrorism forces arrive in Sinai on May 20, 2013 - Aswat Masriya
Two soldiers were injured in an attack by unknown assailants on a security checkpoint in Arish in North Sinai on Wednesday, state news agency MENA reported.
One of the soldiers, Mohamed Gamal Mohamed, 22, was shot in his knee and the other, Islam Abdel-Moneim Mohamed, 22, suffered from a gunshot wound to his arm.
The armed assailants shot at a security checkpoint located at the ring road out of Arish. Security forces shot back but the assailants managed to escape.
Earlier on Wednesday, army spokesman Ahmed Ali released a statement with the results of the police and army's crackdown on "terrorism and jihadists" in Sinai from 5 July to 4 August.
The crackdown resulted in apprehending 227 individuals — 103 of which were arrested and 124 are either of dead or injured, Ali said in a statement released via Facebook.
The army statement comes hours after the murder of a Mubarak-era parliamentarian by unknown assailants in Egypt's Sinai Penninsula. Attackers fired from four bullets a moving vehicle at Abdel Hamid Silmi, 58, as he left a mosque early on Wednesday after dawn prayers.
Critics of the Muslim Brotherhood accuse the group of instigating violence in Sinai — charges much repeated after senior Brotherhood figure Mohamed El-Beltagi stated last month that violence in Sinai would immediately end should Morsi be reinstated.
Sinai has suffered a security vacuum since the January 2011 uprising toppled Hosni Mubarak's regime.
The situation escalated with the ouster of Muslim Brotherhood-backed Islamist president Mohamed Morsi on 3 July. Militants have attacked police and security forces on a daily basis in response to Morsi's overthrow.
Forty people have been killed in militants attacks on security checkpoints since Morsi's ouster, according to Reuters.