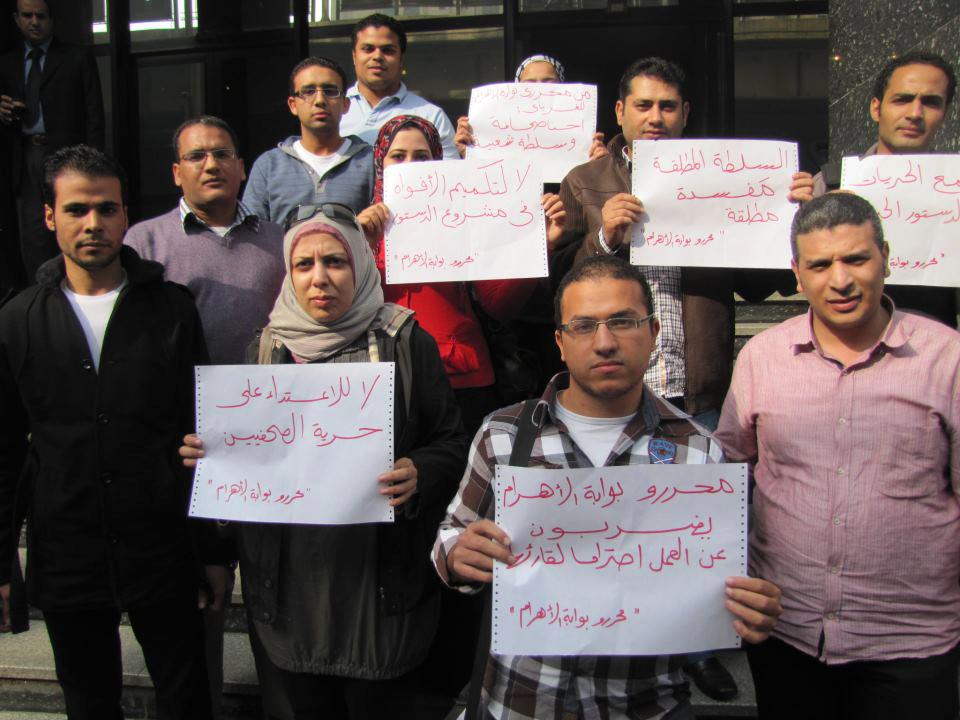 Strike of editors of El-Ahram News Portal - Photo from one of the strikers
Staff of Egypt's state-owned El-Ahram online news portal announced on Monday their intention to hold a one-day strike to protest the status of journalism in the draft constitution.

An Islamist-led assembly finished drafting a controversial charter on Friday allowing it to be put to referendum on December 15.

The editors explained their strike in a statement saying, "In view of gross negligence of journalism and journalists in the draft charter, and the head of the constituent assembly, Hossam al-Gheriyani, ridiculing press and it being a popular authority and relentless violations of freedom of press and thought.

"The decision to strike is not up to us, it is an administrative matter that requires procedures and complex calculations, we are committed to stop practicing our profession for one day then return to our work and readers."

The Journalists Syndicate's general assembly had called on newspapers to participate in a press strike on Tuesday under the slogan "No to dictatorship".

El-Ahram editor Amira Hesham told Aswat Masriya that the staff resorted to the strike when the administration turned down their request to stand in solidarity with other on-strike newspapers.

"History will record our battle, we must take a stance when the charter negatively affects our profession; this institution belongs to the people. We are defending our rights, the rights of the readers, and the coming generations. The constitution is not meant for just one or two years", Hesham added.
"We will not be shushed", Hesham confirmed that they will resume work promptly as it is important to report the marches of the opposition forces to the presidential palace.