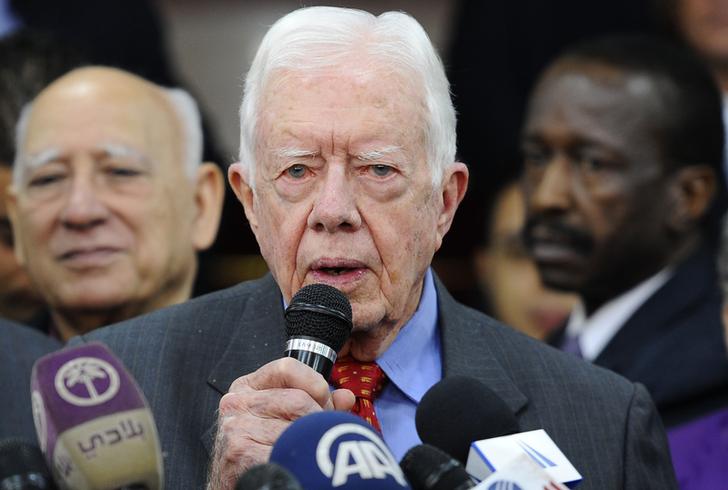 Former U.S. President Jimmy Carter speaks to reporters following a meeting with Sheikh of Al-Azhar Ahmed al-Tayeb in Cairo October 23, 2012. REUTERS Mohamed Abd El Ghany
CAIRO (Reuters) - U.S. democracy watchdog The Carter Center has closed its Egypt office and says it will no longer monitor the country's parliamentary elections due to an increasingly restrictive political environment.
Egypt's parliamentary elections should be held within six months of the presidential election but a date for the polls has yet to be set. Former army chief Abdel Fattah al-Sisi was elected as president in May.
The Carter Center cited the mass arrests of Muslim Brotherhood supporters, the passage of a law that severely curbs the freedom to protest, and moves to tighten the application of a law governing civil society organisations.
"The current environment in Egypt is not conducive to genuine democratic elections and civic participation," former U.S. President Jimmy Carter said in a statement on Wednesday.
"I hope that Egyptian authorities will reverse recent steps that limit the rights of association and assembly and restrict operations of Egyptian civil society groups."
The Carter Center opened an office in Cairo following the 2011 revolt that ousted Hosni Mubarak after 30 years in power and has monitored most polls since, including Sisi's election.
During that election, European Union observers nearly had to scale down their monitoring mission but the government released equipment into Egypt just before they needed to use it.
Since his election, Sisi has moved to consolidate power, continuing a crackdown on supporters of elected president Mohamed Mursi, the Muslim Brotherhood official he deposed last summer, and limiting space for dissent from other groups.
Thousands of Brotherhood supporters have been arrested, imprisoned or sentenced to death. Liberal activists, many of whom were leading lights in the 2011 uprising, also face trial.
But many Egyptians are satisfied with the relative stability and slowly improving economy Sisi's administration has brought.
(Reporting by Shadi Bushra; Editing by Lin Noueihed and Louise Ireland)