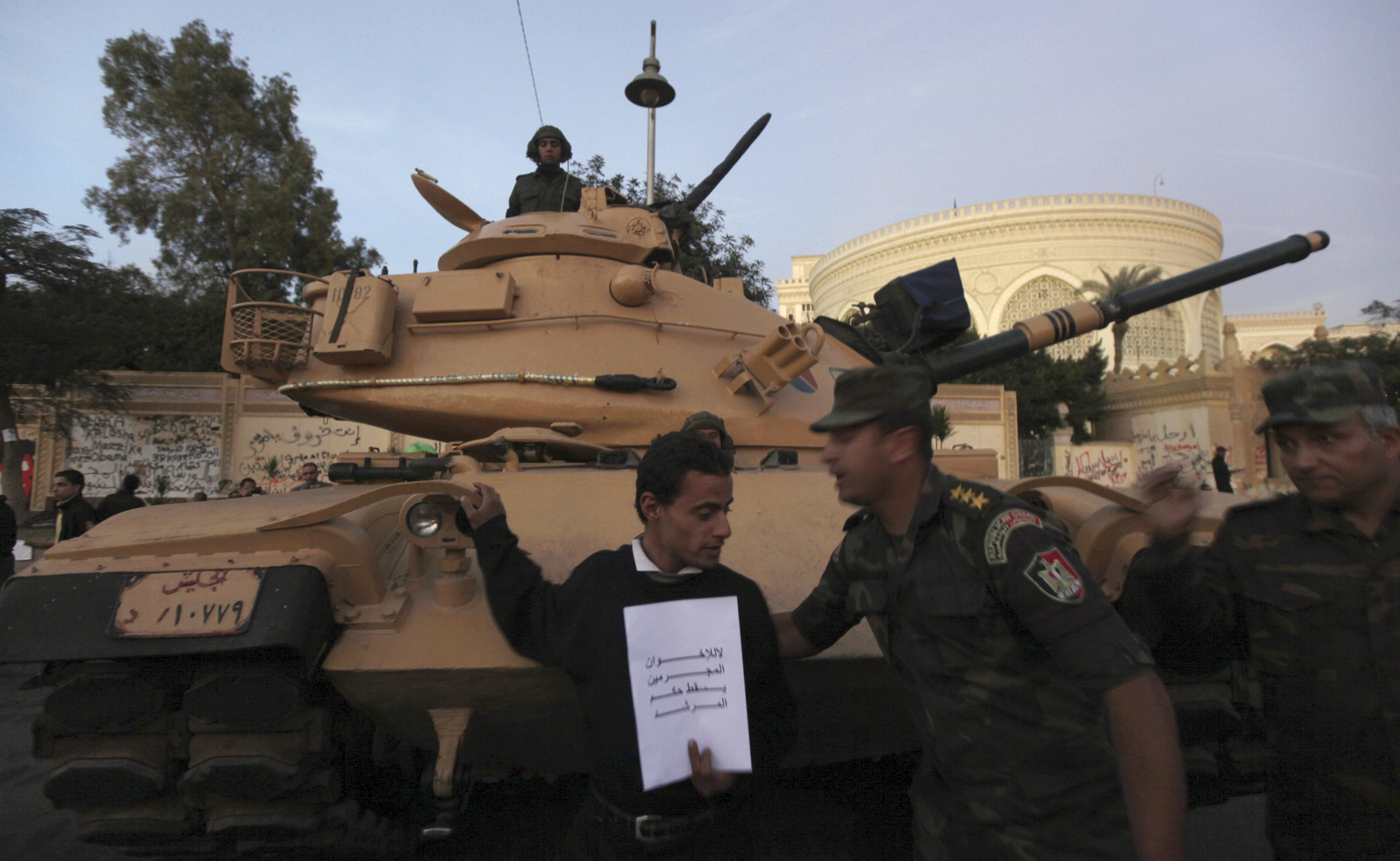 A Republican Guard officer asks an anti-Mursi protester to leave as he stands in front of a military tank outside the presidential palace in Cairo December 11, 2012. REUTERS/Amr Abdallah Dalsh
CAIRO, Oct 27 (Aswat Masriya) – Egypt's President Abdel Fattah al-Sisi issued on Monday a new law which refers crimes committed against the state's public and "vital" facilities to the military judiciary.
The law, passed shortly after the death of at least 33 security personnel in a militant attack in Sinai, also authorises armed forces personnel to cooperate with the police in securing such facilities. It is valid for two years.
At least 30 military personnel were killed in a suicide blast which targeted a security checkpoint in Sinai's Sheikh Zuweid on Friday, in the worst militant attack since the ouster of Islamist President Mohamed Mursi last year. The explosion also caused damage to two military vehicles.
Shortly afterwards, a separate attack by unidentified gunmen on a security checkpoint in al-Arish killed three more security personnel.
The new law aims to protect public and "vital" facilities against "terrorist operations", said presidential spokesman Alaa Youssef. Such facilities include electric power plants and pylons, gas pipelines, oil fields, railroads, roads and bridges.
"The law considers these vital facilities military facilities so long as they fall under the armed forces' protection," Youssef said in a presidential statement.
The new legislation is part of the state's "keenness" on securing citizens and ensuring their access to "vital services", Youssef said.
The presidential spokesman said the new legislation was approved by the cabinet before its issuance, adding that the presidency also sought the opinion of the National Defence Council.
Egypt's cabinet agreed on Saturday to submit a bill amending the law governing the military judiciary in a manner which would make "terrorism cases that threaten the state's peace and security" within the law's jurisdiction.
The cabinet said that the amendment would allow the military judiciary law to tackle cases that involve attacks on armed forces and police facilities and personnel, as well as vandalising public properties and utilities and blocking roads.
Article 204 of Egypt's new constitution already allows referring civilians to military trials "in cases which represent a direct assault on armed forces institutions, their camps or anything that falls under their authority, alongside assaults on military or border zones, and military institutions, vehicles, weapons, ammunition, documents, secrets, public funds, or factories."
The article was strongly condemned by civil society organisations and a number of political movements before the constitution passed.
No Military Trials for Civilians, a group campaigning against referring civilians to military tribunals, has rallied protests against this article as well as previous legislations which allow the military trial of civilians.