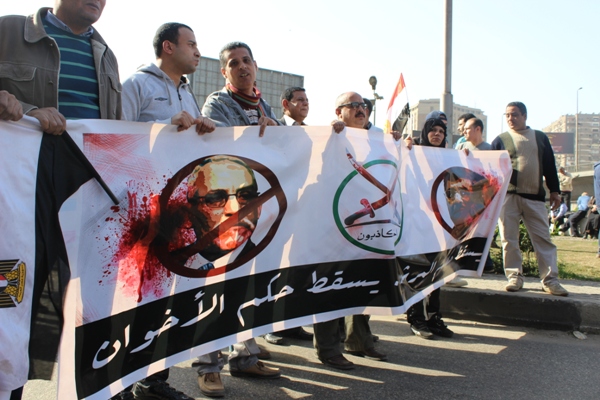 A march headed from Mostafa Mahmoud Mosque to Tahrir Square on the second anniversary of the January 2011 uprising on January 25, 2013 - Ahmed Hamed/Aswat Masriya
Several political parties and groups have called for a demonstration to take place Saturday at 3pm, marching from Tahrir Square's Omar Makram Mosque to the nearby Shura Council protesting yesterday's killings and calling for the realisation of the revolution's demands.
Political forces mourned in their statement those killed across Egypt, estimated by the Ministry of Health to have reached 10, calling on Egyptians to continue on the path of Friday pressing for the revolution's demands of "freedom, dignity and social justice."
The signatory forces include the Egyptian Popular Current, the Constitution Party, the Nasserist Karama Party, the Socialist Popular Alliance, the Egyptian Social Democratic Party, the Free Egyptians Party, the Freedom Egypt Party, the Justice and Freedom Youth Movement, the Free Egyptian Movement, the Lotus Revolution Alliance, the National Front for Justice and Democracy, the 6 April Democratic Front, the Revolutionary Socialists, the Free Front for Peaceful Change and the Maspero Youth Union.
The political forces said they will escalate their action if their demands are ignored by marching on the presidential palace.