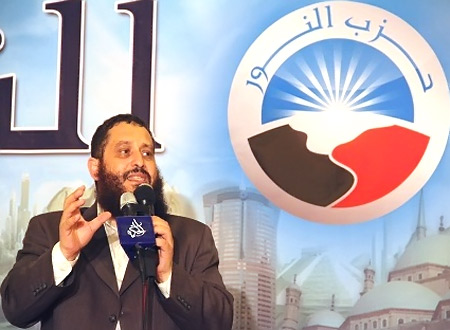 Emad Abdel Ghafour - Head of Al-Nour Party
Egypt's Salafi (ultraconservative) party will elect a new leader on Wednesday to replace Emad AbdelGhafour who resigned last month with other members.
The Nour Party, that garnered second place in last year's parliamentary elections following the Muslim Brotherhood's Freedom and Justice Party, witnessed division last month when a large number of its members withdrew their memberships.
Now that a new constitution has been put into law, parliamentary elections are expected to take place within the next two months to elect a new People's Assembly.
Younes Makhyoun, member of the high board of the party, has nominated himself to lead, a Nour statement said on Monday.
Members who withdrew from the party decided to form a new party, headed by disqualified presidential candidate Hazem Salah Abu Ismail, to compete in the upcoming elections.
Meanwhile, the Salafi Call – Egypt's main Salafi front – had said that the Nour Party is its only political arm, calling on everybody to focus their power and effort on one body as to garner the most gains in parliament.