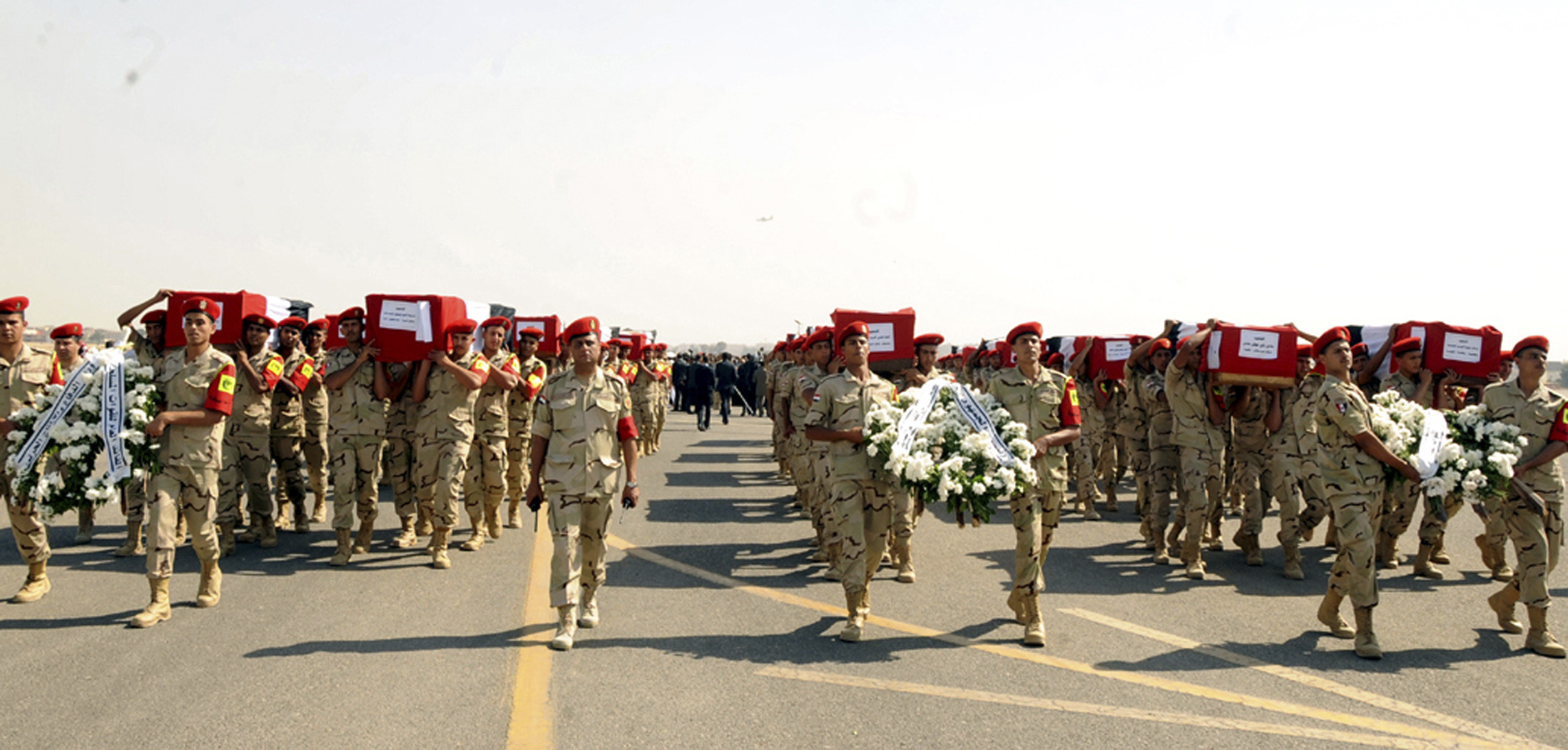 Soldiers carry the coffins of fellow soldiers killed in a suicide attack in Sinai on Friday during a military funeral in Cairo, October 25, 2014. REUTERS/The Egyptian Presidency/Handout via Reuters
CAIRO, Nov 6 (Aswat Masriya) - Unknown gunmen killed Thursday four civilians in North Sinai's al-Arish city, security sources said.
The four bodies were found on the ring road south of al-Arish city near al-Sabeel village, police sources told Aswat Masriya. They were all shot in the head in a recurrence of similar recent shootings in North Sinai.
Security forces are carrying out their investigations to identify the perpetrators.
The number of security personnel and civilians killed in armed attacks by militants in North Sinai significantly surged during the past couple of months.
Thirty military personnel were killed in a suicide blast on October 24, which targeted a security checkpoint in Sinai's Sheikh Zuweid, security sources told Reuters. The explosion also caused damage to two military vehicles.
Shortly afterwards, a separate attack by unidentified gunmen on a security checkpoint in al-Arish killed three more security personnel.
Reviewing statements and press releases by security forces, Aswat Masriya counted the death of 82 people – 62 security personnel and 20 civilians, in the past two months. The number is over four times that of those killed in the Peninsula during the months of June and July; 17 people including eight security personnel and nine civilians.
Residents of the south Rafah region in North Sinai found the dead body of a citizen shot in the head on October 21. Meanwhile, the decapitated bodies of four civilians were found by residents of the Sheikh Zuweid region on August 20.
In a video allegedly released by the Ansar Bayt al-Maqdis militant group in August, the group claimed responsibility for the beheading of the four civilians, accusing them of providing intelligence to Israel.

Similar executions of civilians have been repeatedly occurring since then, gripping the lives of 26 residents in 16 operations. The number is eight times that reported during the months of June and July, which left three civilians killed.