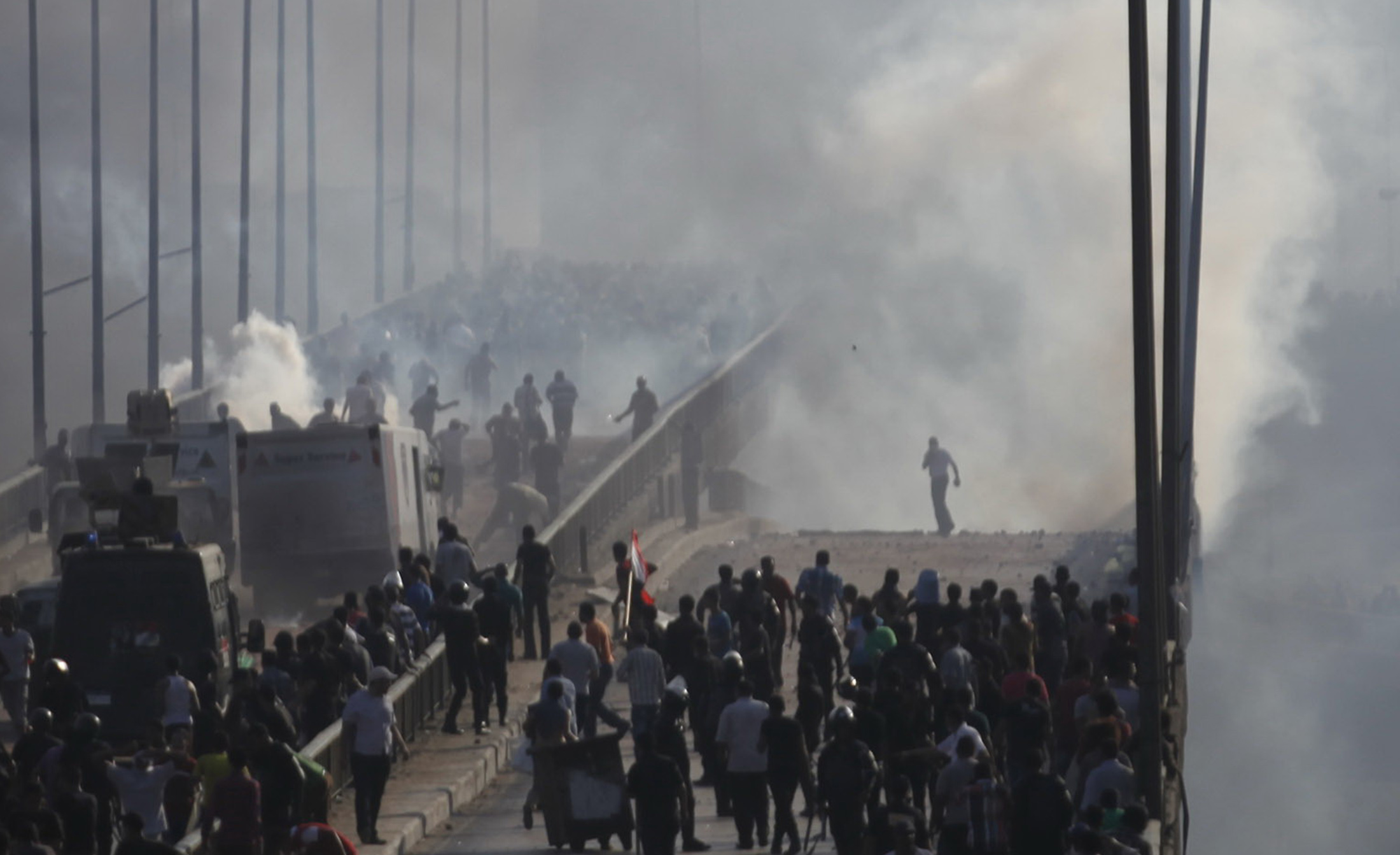 Members of the Muslim Brotherhood and supporters of ousted Egyptian President Mohamed Mursi flee from tear gas and rubber bullets fired by riot police during clashes, on a bridge leading to Rabba el Adwia Square where they are camping, in Cairo August 14, 2013. REUTERS/Amr Abdallah Dalsh
CAIRO, Jul 15 (Aswat Masriya) - Egypt's government approved of renaming the pro-Mohamed Mursi encampment site Rabaa al-Adaweya square after recently assassinated prosecutor general Hisham Barakat, on Wednesday.
The Cairo square once hosted an encampment organised in late June 2013 to show solidarity with and support for ousted president Mursi and his administration.
It was maintained for weeks after his ouster in July 2013 following mass protests against his rule.
A parallel but smaller encampment was set up for the same reason in Giza's Nahda square.
Both encampments were forcibly dispersed on Augsut 14, 2013, leaving hundreds of protesters dead in what was described by Human Rights Watch as "the most serious incident of mass unlawful killings in modern Egyptian history."
Since the ouster of Brotherhood politician Mursi, group leaders and members have often found themselves behind bars where they either serve time or await trial verdicts.
Egypt listed the Brotherhood as a terrorist organisation in December 2013.
The state insists the Brotherhood is behind the stringent wave of militancy which has targeted security personnel since mid-2013.
The Brotherhood continuously denies the accusations.
Barakat's assassination on June 29 makes him the most senior state official killed since Mursi's removal.
He was honoured in a military funeral the following day, amid an outpouring of global and local condemnations.