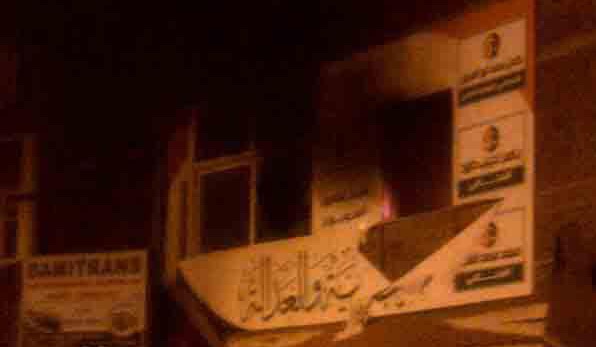 Archive picture of unknown men torching the Muslim Brotherhood;s Freedom and Justice Party headquarters in Damietta on April 8, 2013 - Aswat Masriya
Muslim Brotherhood spokesman Gehad al-Haddad accused the police, members of the disbanded National Democratic Party and people whom he called thugs of attacking eight headquarters belonging to both the Brotherhood and its Freedom and Justice Party on Friday.
Two headquarters were torched and all were looted, al-Haddad wrote on Twitter.
Eyewitnesses reported that anti-Mursi and -Muslim Brotherhood attacked the Brotherhood's and its party's headquarters in Alexandria, Kafr al-Sheikh, Beheira, Daqahliya and Sharqiya.