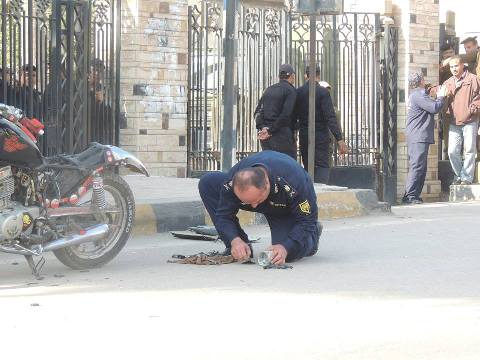 (Archive) Bomb defused in front of Kafr al-Sheikh security directorate - Aswat Masriya
CAIRO, April 24 (Aswat Masriya) - The National Security Sector arrested seven Ansar Bait al-Maqdis group members on Thursday while hiding in dens in Cairo and Qaliubiya, security sources said.
The Ansar Bait al-Maqdis is a militant group that has claimed responsibility for killing dozens of policemen, army soldiers, and tourists after former President Mohamed Mursi had been deposed last July.
Four members were arrested in Qaliubiya while three others were arrested in Marg area in Cairo with electrical circuits and homemade bombs in their possession, sources told the Middle East News Agency.
The arrestees are currently interrogated by national security officers and will later be referred to prosecution, the sources said.
They were planning for a series of bombings and terrorist operations tomorrow Friday, the sources added.
In mid-April, a Cairo court for urgent matters has labelled the extremist group a terrorist organisation.