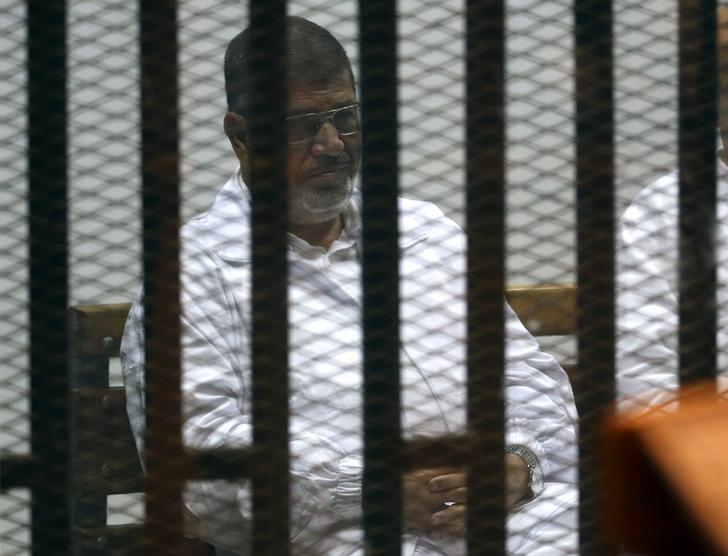 Former Egyptian President Mohamed Mursi sits behind bars with other Muslim Brotherhood members at a court in the outskirts of Cairo December 14, 2014. REUTERS/Asmaa Waguih
CAIRO, Dec. 27 (Aswat Masriya) - The Cairo Criminal Court adjourned Sunday the trial of former president Mohamed Mursi and 10 Brotherhood figures in the "Qatar espionage" case to 2 January to continue hearing testimonies.
Witnesses in the next trial session include Major General Mohamed Zaki, Major General Osama Alguindy and Major Mohamed Tarek.
Zaki is the former Chief of the Republican Guard. Other witnesses who testified in the case include former Interior Minister Mohamed Ibrahim and former Head of the Presidential office Mostafa Tal'aat.
The defendants are accused of leaking important national security documents and information on the Egyptian Armed Forces to Qatar during Mursi's year in office.
Mursi, who became Egypt's president in June 2012 after the first democratic elections in the country, was eventually ousted at the hands of the military following mass protests against his rule, after a year in power.
Since his ouster in July 2013, Mursi has faced multiple charges in five trials.
The former president received the death penalty in the "Wadi al-Natroun prison escape" case, a life sentence in another espionage case, and was handed a 20-years prison sentence for inciting and demonstrating violence in the "Presidential Palace Clashes" case.
The two remaining trials, "Qatar espionage" and insulting the judiciary, are still being adjudicated in front of the courts.