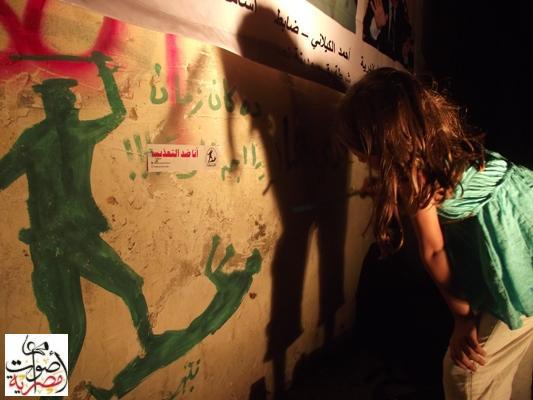 A little Egyptian girl draws graffiti against torture. Ahmed Hamed/Aswat Masriya
LUXOR, Nov. 26 (Aswat Masriya) - Luxor's prosecution released Thursday 24 people arrested on charges of illegal assembly in front of Luxor police station, where they were protesting the alleged torture and killing of their relative by police, state run MENA news agency reported.
Luxor police had arrested a 47-year-old man in the district of al-Amawya Tuesday night. A day later his family later received information that his dead body was transferred to Luxor International Hospital.
When a group of them gathered in front of the police station to protest his death, security forces dispersed the protest using tear gas and arrested 24 people.
Aswat Masriya contacted the interior ministry press office for more details on the circumstances of his arrest and death, but was told that no details were available.
Luxor's Prosecutor General Ahmed Abdel Rahman said that prosecution is not biased to any side, noting that the forensics report will prove whether or not the citizen was subjected to torture before his death.
In case allegations of torture are confirmed, those responsible will be held accountable for their actions, he added.
Abdel Rahman said that an extensive investigation is underway, and that an autopsy will be conducted before the body is buried.