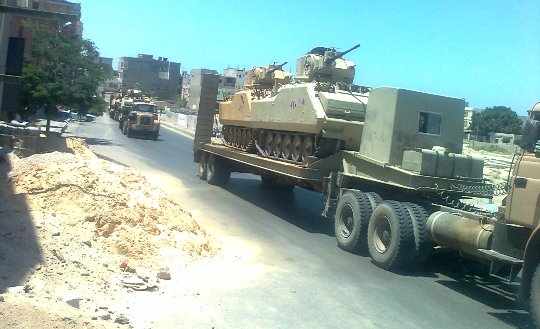 Security reinforcements in Sinai on August 9, 2012 - Aswat Masriya
SINAI, March 17 (Aswat Masriya) Three "extremists" have been killed and 17 arrested in the latest security operation in Sinai, Egypt's army spokesman said on Monday.

Egypt has stepped up security in the lawless peninsula to combat repeated armed attacks targeting the police and army, which rose up since the ouster of President Mohamed Mursi in July.

The army ousted Mursi last year in response to mass protests against his rule.

"The security forces attacked a number of terrorist and criminal spots in Arish on Saturday and Sunday," Army Spokesman Ahmed Mohamed Ali said in a Facebook statement.

Ali added that the forces destroyed nine tunnels and 60 huts that were used by "terrorists for planning and implementing their attacks against the army and police."

Egypt's army has demolished 1,275 tunnels to Gaza since August 2012 when 16 army conscripts were killed by unknown gunmen.