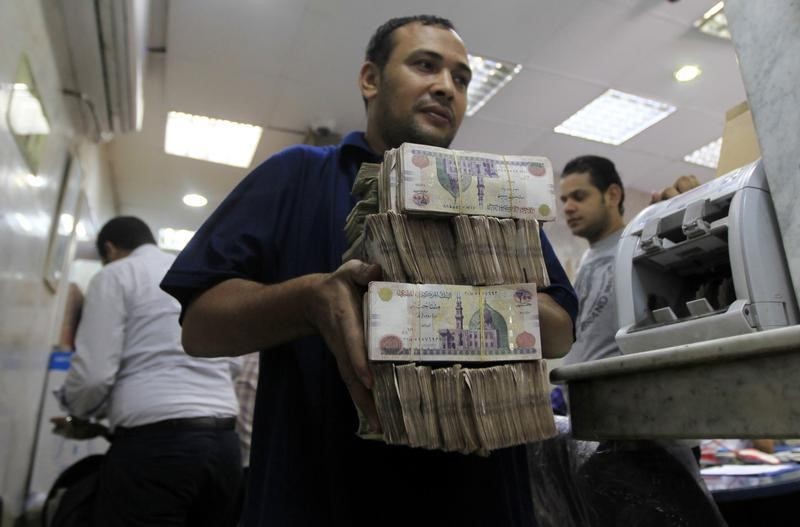 An employee carries money at an exchange office in downtown Cairo June 5, 2014. REUTERS/Amr Abdallah Dalsh
CAIRO (Reuters) - Egypt's central bank held its main interest rates steady at a policy meeting on Thursday but said softening growth in emerging markets and mounting concerns about the global economy could pose a threat to the country's nascent recovery.
The bank kept overnight deposit and lending rates unchanged at 9.25 percent and 10.25 percent respectively, as forecast by most of the economists in a Reuters poll.
The central bank raised benchmark interest rates at its meeting on July 17 to dampen inflation after the government introduced deep cuts to electricity and fuel subsidies.
But it has kept rates on hold at its last three meetings as inflationary pressure has eased while the economy shows signs of strengthening on the back of growth in manufacturing and real estate.
However, the tourism and oil sectors, both key foreign currency earners, have been lacklustre and the central bank said it remained concerned that softening growth in emerging markets and a resurgence in economic challenges in the euro zone could derail Egypt's nascent recovery.
"At this juncture, the MPC judges that the key ... rates are currently appropriate given the balance of risks surrounding the inflation and GDP outlooks," the bank said in a statement after the meeting.
Egypt's economy has been in turmoil since a popular uprising ousted autocrat Hosni Mubarak in 2011, deterring tourists and foreign investors and straining the country's finances.
To help bring down its swelling budget deficit, the government in July slashed energy subsidies, raising energy costs for companies and consumers by up to 78 percent.
That pushed up prices and hit business activity in July. But the effect appears to have been short-lived, with the pace of economic activity picking up in the three months since and core inflation continuing to ease in October.
In the last quarter, gross domestic product grew 3.7 percent from a year earlier, suggesting the recovery was gaining strength. A Reuters poll last month forecast growth could reach 3.3 percent this fiscal year as Egypt pushes ahead with big projects such as a Suez Canal expansion.
The government hopes the project can turn the canal into an international industrial and logistics hub that will create jobs and restore confidence