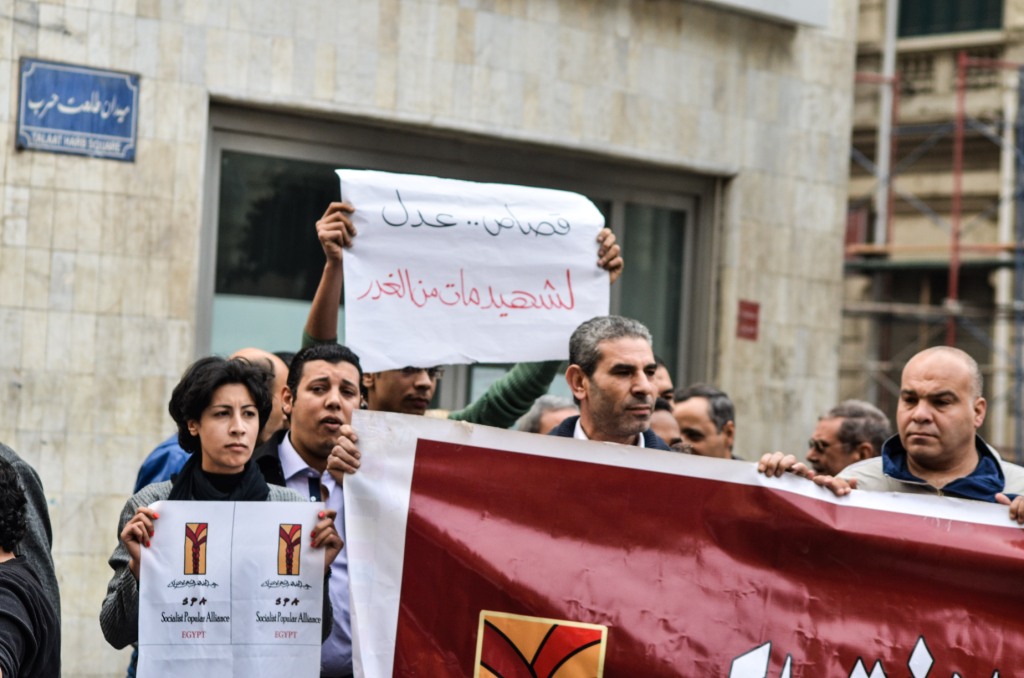 Shaimaa al-Sabbagh (L), member of the Socialist Popular Alliance Party, takes part in a protest in downtown Cairo shortly before her reported death, on Saturday, January 24, 2015. ASWAT MASRIYA/Mohamed al-Rayi
CAIRO, Jan 29 (Aswat Masriya) – The Socialist Popular Alliance Party (SPAP) decided to suspend participation in the upcoming parliamentary elections, until five "urgent" demands are met, it said on Wednesday.
The party said in a statement that the decision came after its political bureau met.
The demands include a call for the dismissal of current Interior Minister Mohamed Ibrahim and "restructuring" the ministry of interior.
SPAP's decision to boycott the elections, which are due to begin in March, comes after the killing of one of its members, Shaimaa al-Sabbagh during a protest on Saturday.
The protest came one day ahead of the fourth anniversary of the January 2011 uprising.
An investigation was opened up on in the early hours of Sunday, with Egypt's top prosecutor ordering the questioning of policemen involved in the dispersal of the protest.
The acting president of SPAP, Medhat al-Zahid, told Aswat Masriya on Sunday that the current environment is not conducive to holding elections, especially amid the "security clampdown on political forces."
He accused the Interior Ministry of being responsible for Sabbagh's death.
The interior minister said on Monday that the police complied with all investigators' requests. He added that if it is proven that a policeman is responsible for activist Sabbagh's death, "I will hand him in myself."
SPAP's other demands before lifting the suspension include releasing prisoners of conscience and amending the protest law. The law was issued in November, 2013 and has since been heavily criticised by rights groups and political parties.
SPAP's final demand is that the state provides guarantees on the integrity of the elections.