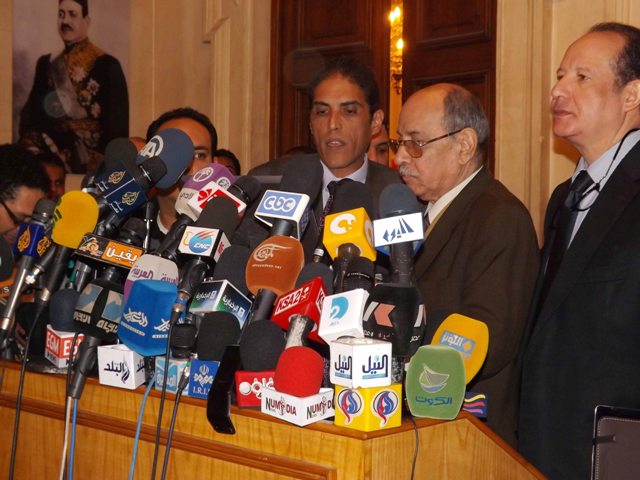 The National Salvation Front at a press conference - Ahmed Hamed/Aswat Masriya
Egyptian President Mohamed Mursi declared a 30-day state of emergency in three cities along the Suez Canal, including a curfew from 9 p.m. to 6 a.m., following violent clashes that left over 40 people dead.

He has also called the leaders of the opposition for a national dialogue to discuss the current situation and develop a mechanism for dialogue.

The following are the reactions of the political opposition:-

The National Salvation Front said that the decision is disappointing as it ignored the reality as usual. The Front added that if the president had really wanted to protect the lives of Egyptians, he would have instructed his government to take strict security measures in the city of Port Said before the verdict which instigated such deadly reactions.
The Popular Current said that the dialogue is unacceptable as the decision came as a collective punishment against the people in the cities of the Canal. Adding that "we refuse dialogue with the continuing bloodshed, crimes against protesters and the ongoing disregard for the legitimate demands of the Egyptian people."

The Dostour Party, founded by Mohamed ElBaradei, said that any dialogue would be a a waste of time since the president did not take responsibility for the bloody events or pledge to form a national salvation government and a new committee to amend the constitution.

The Revolutionary Socialists commented that Mursi declared war on all Egyptians and his speech is an incitement to murder, saying, "How can we hold dialogue with a regime that kills people and threatens that the worst is yet to come?"

The Egyptian Mo'tamar Party did not comment on Mursi's speech, but stressed on the need to "stop non-productive dialogues" and renewed its call for the formation of a national coalition government.