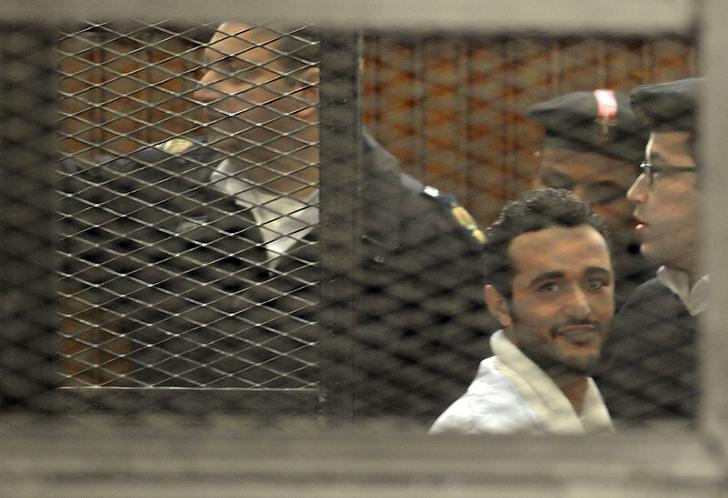 Political activist Ahmed Douma of the 6 April movement looks on behind bars in Cairo, December 22, 2013. REUTERS/Stringer
CAIRO, Dec 9 (Aswat Masriya) – The Cairo Criminal Court sentenced on Tuesday jailed political activist Ahmed Douma to three years in prison and a 10-thousand Egyptian pound fine for insulting court.
Douma is facing trial alongside 268 others for taking part in the "cabinet clashes" which occurred in December 2011.
The court postponed the trial to February 4.
During Tuesday's session, Douma told the bench that he does not trust the procedures of the trial, which was taken as an insult to court. The defendant stressed his respect for and appreciation to the bench before announcing he will no longer be defending himself in court.
Douma's defence team has withdrawn from the trial on November 22, after complaining of being ill-treated by court.
The Cairo Criminal Court had referred on November 12 a member of the defence team to the prosecution for his "behaviour toward the judge".
Egypt's Lawyers' Syndicate supported the defence team's decision to withdraw from the trial, banning its members from taking on the defence case.
The court mandated a new lawyer to represent Douma during Tuesday's session. The defendant called on court not to hear the defence and to swiftly issue its verdict against him.
The defence team has tried to refer the case to a different bench twice, citing the current bench's "obstinacy" in meeting the defence team's requests. Both attempts have failed.
The defendants are charged with illegal assembly, possession of bladed weapons and Molotov cocktails, assaulting army and police personnel and attacking governmental institutions in December 2011 during the "cabinet clashes".
Douma, detained since December, started a hunger strike on August 28 to protest his imprisonment. He suspended it on September 30 due stomach and duodenum ulcers, his wife said.
Clashes broke out between protesters and security forces outside the cabinet headquarters in December 2011, leaving at least three people dead and 255 wounded.