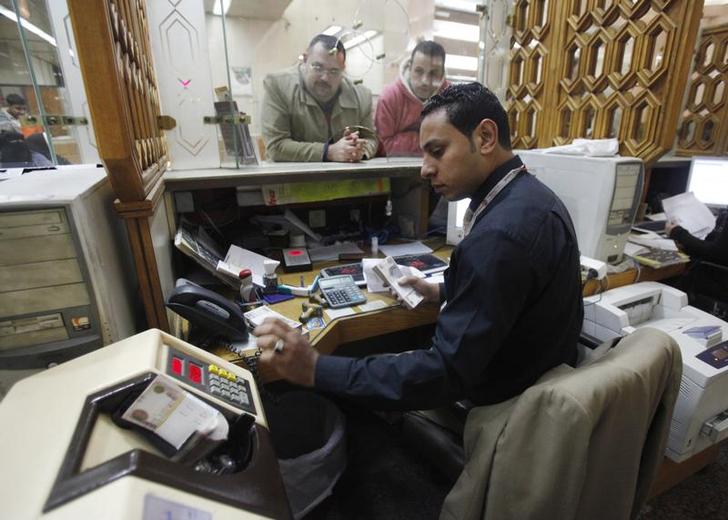 An employee counts money at a bank in Cairo February 20, 2011. REUTERS/Suhaib Salem
CAIRO, Jul 21 (Aswat Masriya) - Egypt's trade deficit stood at 24.6 billion Egyptian pounds in April, rising by 52.7 percent from the 16.11 billion pounds it recorded during the same month last year, the state's official statistics agency reported on Tuesday.
The Central Agency for Public Mobilisation and Statistics (CAPMAS) said in its report that the state's exports declined by 18.9 percent this April, standing at 14 billion pounds, as opposed to 17.26 billion pounds in April 2014.
The decline was owed to a decrease in the value of certain goods such as crude oil, petroleum products, plastic, clothes and potatoes.
Hany Farahat, an economic analyst at the leading investment bank CI Capital said have increased because the government is intensifying the import of petroleum products to fill a gap in local energy consumption in the summertime.
Egypt has long faced a recurring energy crisis, the peak of which was last summer when power cuts lasted up to several hours a day.
Imports' value rose by 15.67 percent, inching to 38.6 billion pounds, from 33.37 billion pounds during the same month last year, CAPMAS reported.
Farahat added that he expects the trade deficit to continue as the government expands importing liquefied natural gas in the upcoming period to meet electricity demand.
An increase in the value of certain goods caused the rise in imports' value, CAPMAS said. Those goods included petroleum products, vehicles, corn and wood.
Egypt's annual inflation rate stood at 11.5 percent in June, declining from the 13.5 percent it recorded in May.
Inflation increased last summer after the government reduced petroleum subsidies and introduced new taxes in July 2014, hiking fuel prices by up to 78 percent.