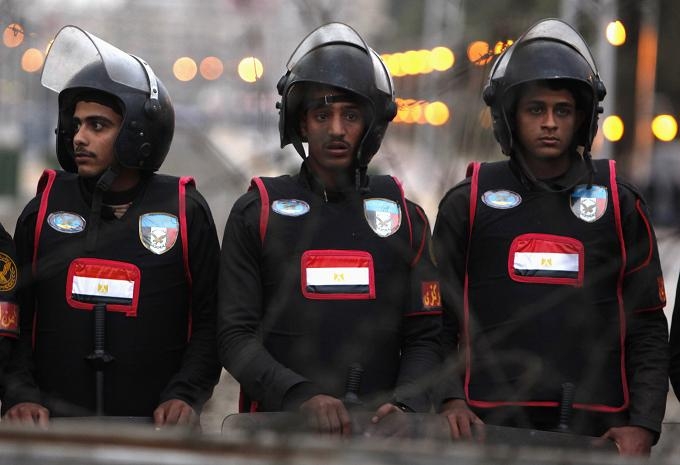 Egypt riot police stand behind a barbed wire fence closing off the road before a demonstration, in front of the presidential palace in Cairo, December 4, 2012. REUTERS/Asmaa Waguih
Egyptian Interior Minister Mohamed Ibrahim has said that the Republican Guard are responsible for securing the presidential palace, not the police whose duty is to protect protesters.
The minister assured the CBC satellite channel on Monday evening that prisons are a "red line" and will not be stormed during demonstrations planned for the end of this month.
He warned that those who attempt to storm prisons will face serious consequences in accordance with the law.
"The prisons will not be stormed again," Ibrahim said, referring to when prisons were stormed in the wake of the 2011 uprising that toppled Hosni Mubarak's 30-year-long regime.
The interior minister explained that every political party is responsible for protecting its own headquarters, adding that Egypt does not have enough resources to deploy forces to all headquarters.
He explained, however, that if violent confrontations were to take place, the police would intervene to disperse the crowds and protect both sides.
A national campaign was launched by the interior ministry about a month ago to capture bandits and confiscate illegal arms, Ibrahim said, adding that the police apparatus is a national institution whose purpose is to protect citizens.
An opposition campaign that goes by the name "Tamarod" has been collecting anti-regime petitions to push for a no-confidence vote against President Mohamed Mursi.
It set June 30 as the date for mass protests against Mursi's Muslim Brotherhood regime, to mark his first anniversary of taking office.