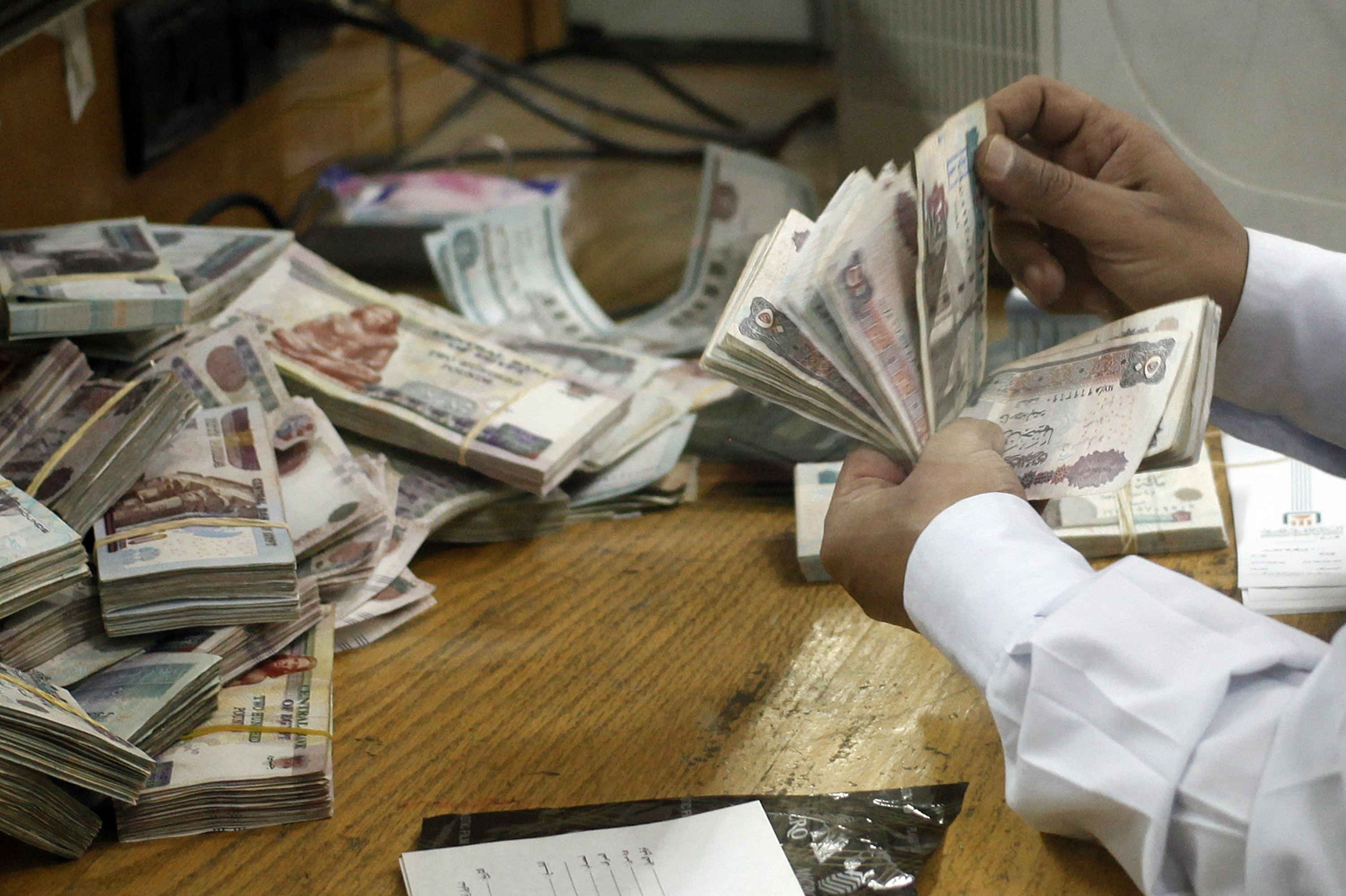 An employee counts money at a bank in Cairo September 4, 2014. REUTERS/Asmaa Waguih
CAIRO, Jul 1 (Aswat Masriya) - Egypt's Finance Ministry published late Tuesday a part of the financial statement on the draft budget for the new fiscal year 2015/2016, reducing the expected budget deficit to 8.9 percent of the gross domestic product.
Egypt's cabinet had approved a draft of the budget two weeks ago, with a deficit of 9.9 percent of the GDP, or 281 billion Egyptian pounds.
The draft was scheduled to be issued by the president today, a governmental official said. The issuance was however delayed as the presidency is following up with militant attacks on security checkpoints and facilities in North Sinai which have left dozens killed
The new draft budget targets general investments worth 75 billion pounds, making up 2.7 percent of the GDP. Around 55 billion pounds would be generated from the state's treasury, while the rest would depend on loans, grants and self funding, according to the financial statement.
The budget expects growth to rise to 5 percent, as opposed to an expected 4.2 percent in the 2014/2015 fiscal year.
Egypt did not meet its target investments during the past fiscal year, which elapsed on Tuesday. While the state had aimed for investments worth 67.2 billion pounds in the 2014/2015 year, it only carried out investments expected to amount to 60.2 billion pounds.
The new draft budget includes measures to regulate the "aggravating wage expenses". The wages' budget stood at 218 billion pounds.
Egypt will also raise the sales tax to 6.5 percent of the GDP, as opposed to 5.2 percent last year, as per the new draft budget.
The new draft budget also aims to decrease unemployment rate by 1 percent, the ministry said, ranging from 11.5 percent to 12 percent of the labour force.
Unemployment rate withdrew in March to 12.8 percent, as opposed to 13.4 percent in June 2014.
Sisi's administration has largely focused on fixing Egypt's battered economy, which has been suffering badly due to four years of political turmoil since an uprising toppled former President Hosni Mubarak in 2011.
The government reduced petroleum subsidies and introduced new taxes last July, hiking fuel prices by up to 78 percent.