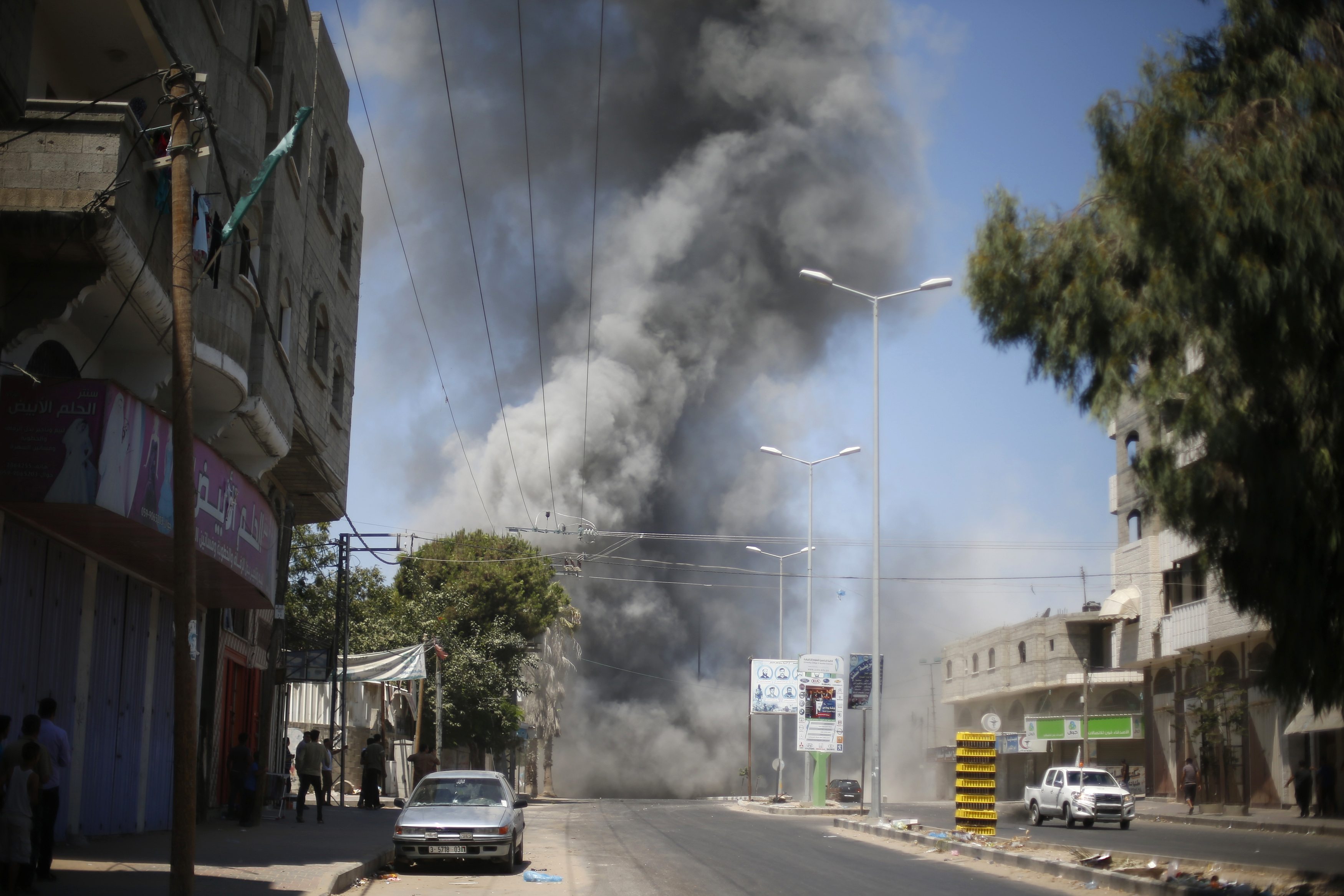 Palestinians gather as smoke rises during what witnesses said was an explosion caused by an Israeli air strike on a house in Gaza City August 23, 2014. REUTERS/Suhaib Salem
CAIRO, Aug 23 (Aswat Masriya) – Egypt called for an "indefinite" ceasefire truce within the Gaza strip and a resumption of the indirect Cairo negotiations on Saturday.
The ministry of foreign affairs invited the warring parties in Gaza to agree to a ceasefire to "reach an agreement over the issues on the table and stop the bloodshed of the Palestinian people …"
Sami Abu Zuhri, spokesman for the Gaza-ruling movement Hamas, said in a statement on Saturday the movement supports any "real effort that would guarantee the Palestinian peoples' demands are met." Abu Zuhri added that the movement will study any proposals it receives.
Palestinian Authority President Mahmoud Abbas stressed on Saturday that "stopping the bloodshed" in Gaza is his top priority, calling for a swift resumption of the Cairo-mediated talks between Palestinians and Israel.
Egypt has been trying to enforce a lasting ceasefire agreement for over a month to end the fighting in Gaza, ongoing since July 8. So far, negotiations have only helped reach short-lived ceasefire truces, the latest expiring last Tuesday.
The last ceasefire was breached hours before it expired, reigniting the fighting which has left over 2092 Palestinians killed and at least 10,500 injured. Sixty-four soldiers and four civilians have also been killed in Israel.
Following a meeting with Egypt's President Abdel Fattah al-Sisi, Abbas said Egypt will renew its invitation to Palestinian factions to resume negotiations over a ceasefire.
Abbas said that Hamas has agreed to Egypt's sponsorship to the negotiations over a lasting ceasefire agreement in Gaza.
The Palestinian Authority president arrived in Cairo on Friday for a two-day visit to discuss the situation in the war-torn strip with Sisi. He is expected to meet with Arab League Secretary General Nabil Elaraby on Saturday.