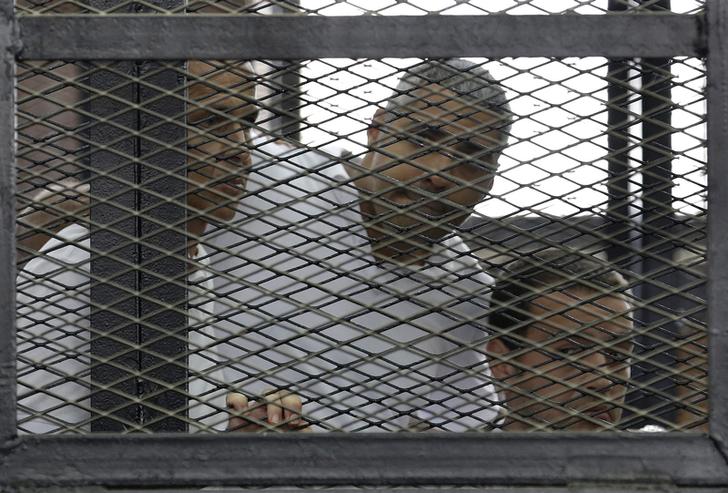 Peter Greste, Mohamed Fahmy and Baher Mohamed (L-R) listen to the ruling at a court in Cairo June 23, 2014. REUTERS/Asmaa Waguih
CAIRO, Aug 2 (Aswat Masriya) - An Egyptian court postponed ruling on three journalists working for Qatari network Al Jazeera on Sunday, delaying the decision for a second time after it was due last week.
Canadian national Mohamed Fahmy, Egyptian national Baher Mohamed and Australian national Peter Greste are being retried for defaming Egypt and spreading false news, after the Cassation Court dropped their seven to 10 years in prison sentences in January.
The court decided on Sunday to postpone the verdict to August 29. In reaction, Fahmy posted on Twitter, "the audacity" and "continuous disrespect to our rights is unprecedented!".
The verdict was set to be issued last Thursday but was postponed after the judge presiding over the trial fell sick, judicial sources said.
The three journalists were arrested from the Marriott Hotel in Cairo's posh island of Zamalek in December 2013 and initially sentenced to prison in June 2014. They spent no less than 400 days in prison before their release in February 2015 on different days and under different conditions.
Greste was the first of the trio to be granted his freedom.
He was released on February 1 after spending 400 days behind bars. He was immediately deported as per a presidential decree, which allows the deportation of foreign defendants and convicts "whenever the [state's] supreme interest necessitate so."
He has been out of the country since his deportation.
Greste told Aswat Masriya in an interview last week he respected the judicial process and expects the court's upcoming decision to demonstrate "that it is both fair and just."
In the hopes of benefiting from the same decree which saw Greste released, Fahmy, who held a dual Egyptian-Canadian citizenship prior to the trial, revoked his Egyptian citizenship in February.
Yet, giving up his nationality did not speed up his release and both he and Mohamed were released as per a court order on the same day, February 12.
While all three journalists were found guilty of defaming Egypt and spreading false news, Mohamed was sentenced to three more years for arms possession; a spent bullet casing.