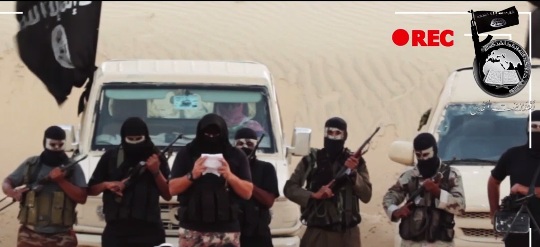 A snapshot from a video released on Twitter by Ansar Bayt al-Maqdis on August 28, 2014.
CAIRO, Feb 2 (Aswat Masriya) – A Cairo court set on Monday the first trial date of 200 people purported to belong to the Sinai-based militant group Ansar Bayt al-Maqdis to March 5.
Among the charges they face is "belonging to a terrorist group."
Egypt's top prosecutor said in a statement in May 2014 that the 200 defendants carried out 51 "acts of terrorism," which have left 40 police personnel and 15 civilians dead.
Ansar has claimed responsibility for numerous attacks on Egyptian security forces. Most recently, the group said it was responsible for the four attacks that took place in North Sinai on Thursday, leaving at least 30 people dead and 50 injured.
In a video released by the group last month, masked men are featured pledging to continue attacks on Egypt's security personnel.
Ansar pledged allegiance to the leader of the Islamic State fighters in Iraq and Syria in a video released in November 2014, after Islamic State fighters gained control over large areas of Iraq and Syria over the summer of 2014.