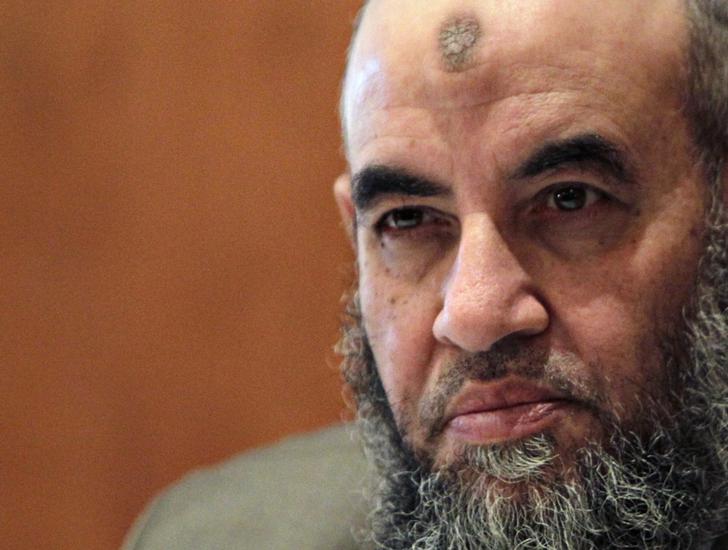 Younes Makhyoun, the head of the Nour party, attends a news conference about constitution in Cairo December 5, 2013. REUTERS/Mohamed Abd El Ghany
By Marium Mohamed
June 10 (Aswat Masriya) As parliamentary elections approach in Egypt, the chairman of the Salafi (ultraconservative) Nour Party, Younes Makhyoun, believes that his party will gain 20 percent of the seats despite what some consider as a decline in the popularity of Islamists in Egyptian streets.
In an interview with Aswat Masriya at his residence in Beheira on Monday, Makhyoun said he expected the party to get the same amount of support it received in 2012.
The Nour Party garnered the second largest number of seats in 2012's parliamentary elections, 20 percent, after the Muslim Brotherhood's Freedom and Justice Party.
Makhyoun insisted that the party and the "Salafi call" have maintained their support despite what he described as a negative image that has tarnished Islamist parties due to the mistakes committed by the Brotherhood.
"The Brotherhood, with their mistakes, sent out a wrong image of the [Islamist] current. An image that has nothing to do with Islam. That affected us and our strength has changed since January 25," he said.
Makhyoun said that the parliamentary elections law is "flawed", explaining that his party, along with other parties that rejected the law, will pressure for its amendment.
"The closed-list system in elections is unconstitutional as it forces parties to nominate a woman because she is a woman and a Christian because he is Christian, which is discrimination on the basis of religion and sex," he added.
The Nour Party rejected Article 11 during the drafting of the 2014 constitution, which obliged the state to maintain equality between women and men.
They said then that they are against "the absolute equality between men and women, because that is a dismissal of the natural differences made by God and put into distinction through the principles of Islamic Sharia."
Makhyoun said that it is possible for the Nour Party to join an alliance for the upcoming parliamentary elections.
The Nour Party head is looking forward to attaining a good percentage of seats in the next parliament in order to review a set of laws that was issued in a hurry during the transitional phase, he said.
He expected the parliamentary elections to take place after three months, not 40 days as stipulated by the constitution.
Makhyoun acknowledged that the security forces have recently committed some violations against human rights, including arbitrary arrests.
"The Brotherhood dealt with the situation in a zero-sum game manner... either they take everything or nothing. Fighting with this mindset forces the other side to enter a struggle for survival mode and when it is the state that is trying to survive, there must be violations."
Makhyoun added that the Nour Party has issued more than 30 statements calling for abiding by the rule of law and the constitution and condemning all human rights abuses.