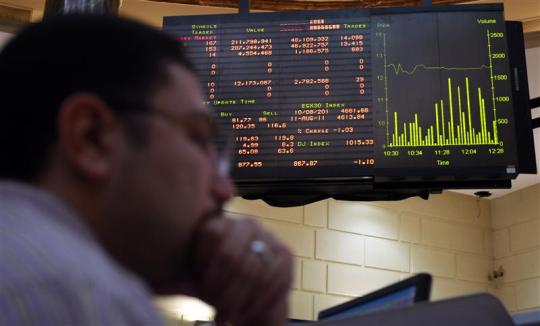 Stock market, August 2011 - Amr Dalsh/REUTERS
Egypt's external debt grew by an annual 2.1 per cent in the 12 months ending in September 2012, to sit at $34.7 billion, the latest data from the Central Bank of Egypt showed on Tuesday.
External debt stood at $33.9 in September 2011.
Relative to the Egyptian economy, external debt made up 11.9 per cent of total Gross Domestic Product (GDP) in September 2012 versus 13.2 per cent a year earlier.
Egypt's position with regards to foreign borrowing is generally viewed as being a very healthy one, as total debt makes up 7.4 per cent of receipts from Egyptian exports whether goods or services.
The annual growth was driven by the increase in foreign debt held by the Central Bank, which increased from $1.49 billion in September 2011 to $3.12 billion in September 2012.
The government is the largest external debtor, holding 73.2 per cent of total foreign debts.
Egypt is mulling a $4.8 billion loan from the International Monetary Fund (IMF) for fiscal support.
Egypt's former minister of finance, Momtaz El-Said, said in December that Egypt has enough reserves to meet its external and internal financial obligations on time.