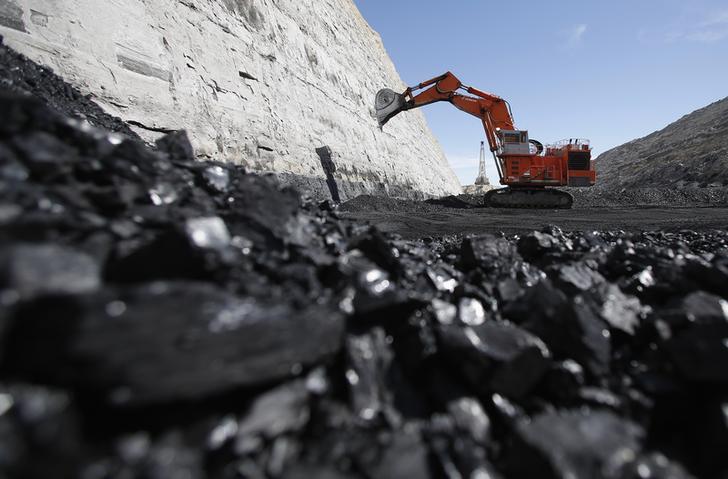 Coal is excavated at the Jim Bridger Mine, owned by energy firm PacifiCorp and the Idaho Power Company, outside Point of the Rocks, Wyoming March 14, 2014. REUTERS/Jim Urquhart
By Stanley Carvalho
ABU DHABI, Sept 30 (Reuters) - An Abu Dhabi-based private firm is leading a consortium to build Egypt's first coal-fired power plant in the Suez area to meet the country's acute power shortage, the chairman of the investing company said on Tuesday.
A memorandum of understanding was signed between Hussain Al Nowais, chairman of Al Nowais Investments, and Gabr El-Desouky, chairman of Egypt's state-run power company EEHC.
Al Nowais will provide 70 percent of the capital, he told Reuters by phone. He declined to give an estimated investment value for the plant or funding details saying those details will be finalised shortly.
He added there were discussions with investors in Singapore, South Korea, China and Egypt to fund the remaining 30 percent of the plant, which will be built in Ayoun Moussa in the Suez area with plans to build a jetty for importing coal. There is no timeframe for when the plant will built or become operational.
Coal will be sourced from international markets such as South Africa, Indonesia and others.
"Egypt has opened the door for private investment in its power sector and we want to be an early investor," Al Nowais said.
Private investment is badly needed to upgrade Egypt's dilapidated power grid. Although gas shortages are a large part of the energy crisis, experts and Egyptian energy officials say modernising the grid should be a priority.
The new plant will provide a total of 3,960 megawatts of electricity. Experts forecast a shortfall of about 4,000 to 5,000 MW ahead of this summer, when blackouts darkened homes and factories throughout the country of 85 million people.
Private investors have been reluctant to build gas-fired plants given the gas shortages that have caused the government to cut feedstock supplies to cement and fertiliser factories.
Al Nowais said the consortium aimed to complete a feasibility study by the end of the year.
HSBC is the financial advisor for the project and White & Case is the legal advisor. Italy's Technimont is the technical consultant and consultants have been appointed to assess the environmental impact.
(Additional reporting by Maggie Fick, editing by Susan Thomas)