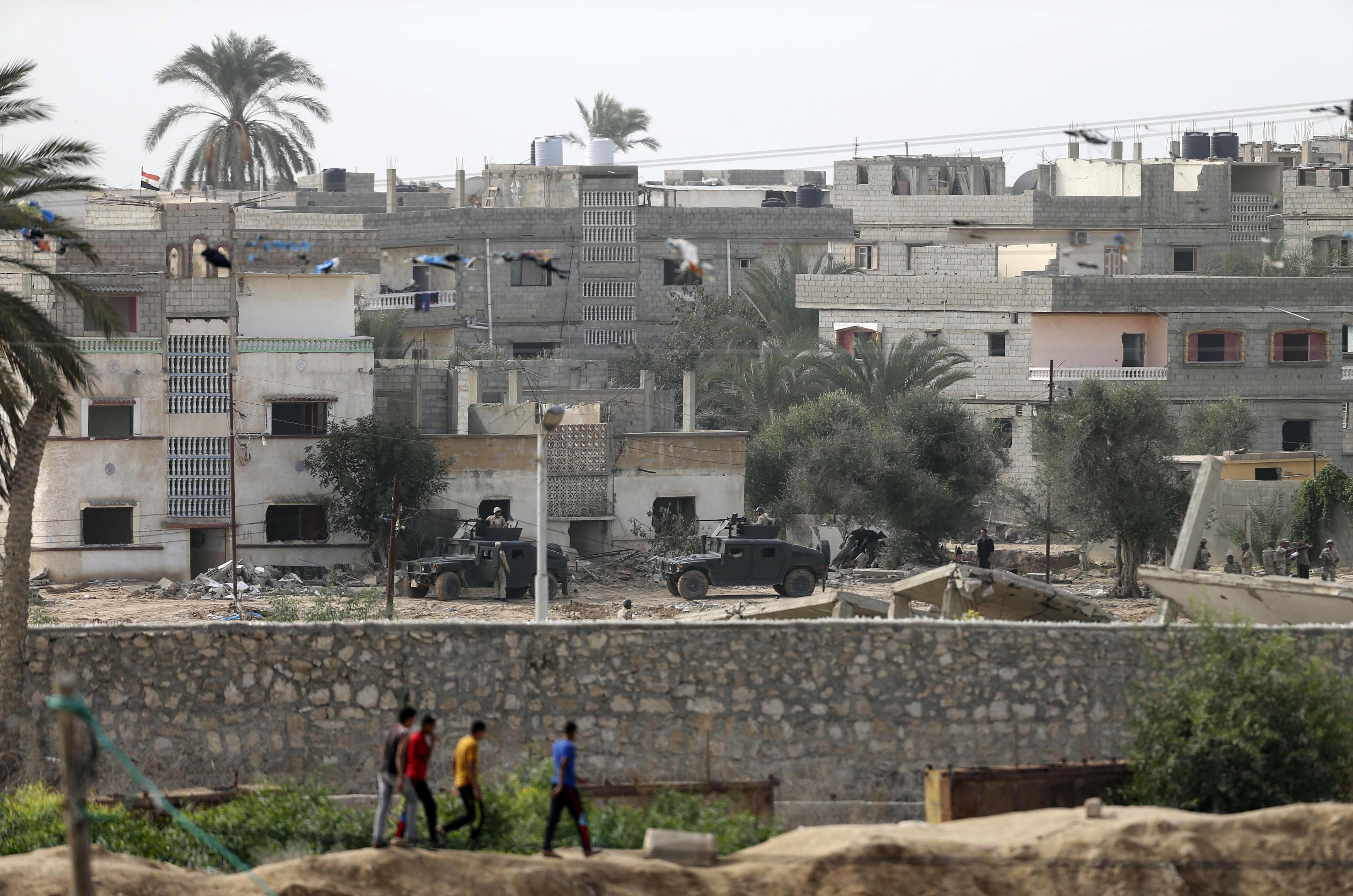 Egyptian soldiers keep guard during a military operation in the Egyptian city of Rafah, near the border with the southern Gaza Strip November 2, 2014. Egypt began clearing residents from its border with the Gaza Strip on Wednesday to create a buffer zone following some of the worst anti-state violence since President Mohamed Mursi was overthrown last year. REUTERS/Ibraheem Abu Mustafa
NORTH SINAI, Nov 3 (Aswat Masriya) – Security forces raised the state of emergency at the borders in Sinai following a blast which occurred on Monday during the evacuation of the border region, a security source said.
The source, who preferred to remain anonymous, said a bomb remotely detonated while security forces were proceeding with the evacuation of houses in the region. The explosion left behind no injuries.
Security forces began evacuating the area bordering Sinai's Rafah on Tuesday evening, as one of the steps taken in response to a militant attack on security personnel in the Peninsula last week which left over 33 killed.
Egypt's cabinet issued on Wednesday a decision to clear 500 metres of the border area with the Palestinian Gaza Strip of civilians, vowing to provide compensation for those evicted.
Security forces have been targeting tunnels dug up in the Sinai to connect it with Gaza. Egyptian authorities say the tunnels are used to smuggle arms to militants in the Peninsula.
Gaza's ruling body Hamas criticised the buffer zone in a statement last week, saying it would reinforce the siege imposed on the strip since 2007.
The source said Hamas members have been engaged in "detonating tunnels on Egyptian soil in retaliation over the evacuation of the border zone," citing information delivered to Egyptian intelligence bodies.
Militants have stepped up attacks targeting security forces in Egypt, particularly in the Sinai Peninsula, since the army's ouster of Islamist President Mohamed Mursi in July 2013, which followed mass protests against his rule.
At least 30 military personnel were killed in a suicide blast which targeted a security checkpoint in Sinai's Sheikh Zuweid on October 24. The explosion, the worst since Mursi's ouster, also caused damage to two military vehicles.
Shortly afterwards, a separate attack by unidentified gunmen on a security checkpoint in al-Arish killed three more security personnel.
President Abdel Fattah al-Sisi declared a three-month state of emergency and a nighttime curfew in parts of the Sinai Peninsula in response to the attacks.