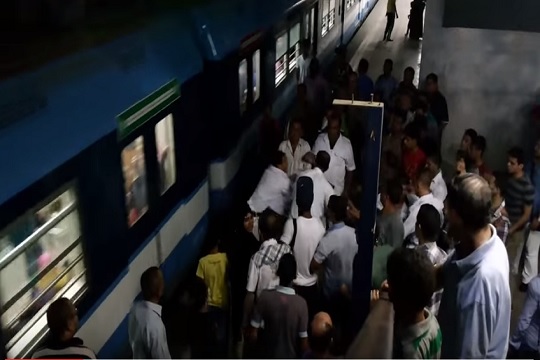 A screen grab from a video showing policemen physically assaulting a citizen inside a metro station in Cairo, in August 2015. ASWAT MASRIYA
CAIRO, Aug 12 (Aswat Masriya) - Egypt's interior minister ordered an investigation on Wednesday into assault of a citizen at the hands of policemen inside a metro station, a ministry official said.
A video circulated on social media late Tuesday showing a group of policemen surrounding and beating a citizen next to a moving train.
Interior Minister Magdi Abdel Ghaffar ordered that all policemen and officers accountable for the incident be summoned, said Abu Bakr Abdel Kereem, the deputy minister for media affairs.
Abdel Kereem told Aswat Masriya the "violation" documented in the video "cannot be accepted by the ministry".
Assaulting citizens at the hands of policeman was among the factors which instigated an uprising in 2011 that toppled the regime of former president Hosni Mubarak.
A Cairo criminal court sentenced a police officer to 15 years in maximum security prison in June for being responsible for the death of activist Shaimaa al-Sabbagh.