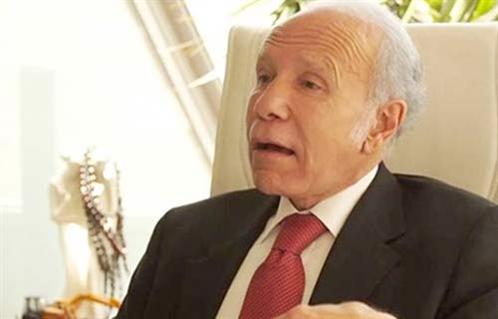 Businessman Salah Diab, the owner of private newspaper Al-Masry Al-Youm. Photo from Al-Ahram
CAIRO, Nov. 11 (Aswat Masriya) - Egypt's top prosecutor ordered the release on bail Wednesday of Mubarak-era businessman Salah Diab and his son, following their arrest and detention earlier this week for possessing weapons and ammunition without a license.
Diab's bail was set at EGP 50,000, while Tawfik, his son's, was EGP 10,000. The pair were arrested in a dawn raid on their home Sunday and were held pending investigation.
Diab, the founder of one of Egypt's biggest private newspapers Al-Masry al-Youm and the Chairman of PICO Group, which has activities in the agriculture and petroleum sectors, is currently implicated in an investigation where he and several other defendants are accused of seizing vast areas of state land at less than their real value.
It is unclear exactly how many are involved in this investigation but they are likely to be more than a dozen businessmen.
As part of this investigation, his personal assets were temporarily frozen by the state's top prosecutor, Nabil Sadek, so were the assets of others investigated in the same case including real estate tycoon Mahmoud El Gammal.
Today, a court lifted this freeze on the businessmen's assets, limiting it only to land belonging to New Giza for Real Estate Development, a luxurious housing project on the outskirts of Cairo, complete with a golf course and shopping malls.
New Giza was founded as a sister company to another real estate developer established by El Gammal, who is also the father-in-law of Gamal Mubarak, former president Hosni Mubarak's younger son.
The temporary freeze was due to be reviewed in court on Tuesday but the review was postponed for one day.
On Monday, prosecutors ordered the stock market to freeze the accounts and stocks of 17 individuals, including Diab's and El Gammal's.
The current case upon which the businessmen are being investigated dates back to complaints filed in 2007, a judicial source had previously told Aswat Masriya.
Complaints against the businessmen were filed before the public funds prosecution accusing them of obtaining "vast areas" of land along the Cairo-Alexandria desert road from the agriculture ministry for low prices, the judicial source said.
The complainants alleged that the accused had turned the land into touristic resorts instead of reclaiming the land for agricultural purposes, in what constitutes unlawful seizure of state land in complicity with the agricultural development and projects authority.
Both Diab and El Gammal were extremely prominent under Mubarak, which was marked by nepotism and the marriage of business and politics.
Mubarak, both his sons, and many politicians and businessmen who were prominent under the former regime, were taken to court in multiple trials after Mubarak's ouster, facing charges of corruption and graft. They have mostly been acquitted.
In July the former military general and current president Abdel Fatah al-Sisi amended the graft law to allow defendants in such cases to avoid jail time through financial reconciliations with the government in order to recover much-needed state funds. The amendment was put into effect in August.
Initiating such reconciliations will guarantee by law that the court will drop the criminal cases, thus ending asset freezes and travel bans taken as precautionary measures against the accused in these cases.
The amendments cover crimes of misappropriation of public funds, money laundering and graft.