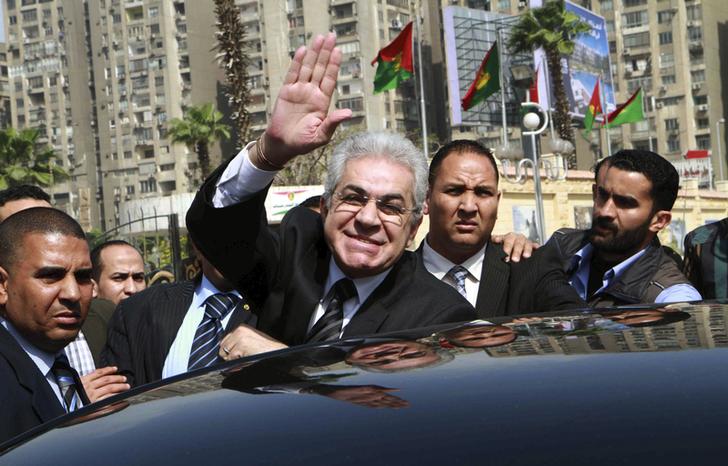 Leftist politician Hamdeen Sabahi (C) waves upon arrival to submit his bid to run as presidential candidate to the presidential election committee in Cairo, April 19, 2014. REUTERS/Al Youm Al Saabi Newspaper
CAIRO, Sept 20 (Aswat Masriya) – The Egyptian Popular Current, a socialist movement founded by leftist politician and former presidential candidate Hamdeen Sabahi, was turned into a political party on Saturday.
The Popular Current launched its political party during a press conference held on Saturday, amid Sabahi's absence.
The former presidential candidate nevertheless voiced his blessing for the new party on his personal twitter account.
"[I give] all the greetings and support to the Popular Current Youth to build a strong party which represents the revolution, adds to the democratic movements and seeks to unify them," Sabahi tweeted simultaneously with the party's launch. "It is time for the youth to take the lead."
Popular Current leader and former Health Minister Amr Helmi said during the press conference that the decision to turn the movement into a party was taken over a year ago, according to a Popular Current statement. The reason for this was to give the youth a "true chance" to express themselves, Helmi said.
Popular Current Spokesman Hossam Moanis referred to the protest law while addressing the press conference, acknowledging the "steadfastness of all the youth detained due to the unconstitutional protest law."
Former interim President Adli Mansour issued the protest law on November 24 to regulate peaceful assembly. The law has long been the epicentre of wide criticism by domestic and international human rights organisations which say it violates international standards for peaceful protests.
The Popular Current was founded by Sabahi in September 2012. It was formed shortly after the leftist politician ranked third during Egypt's first presidential elections after the January 25 uprising, held in 2012.
Popular Current leading figure Maasoum Marzouk had earlier said that it was unlikely for Sabahi to become the party's chairman.
"Sabahi will encourage the youth to take the lead," Marzouk said.