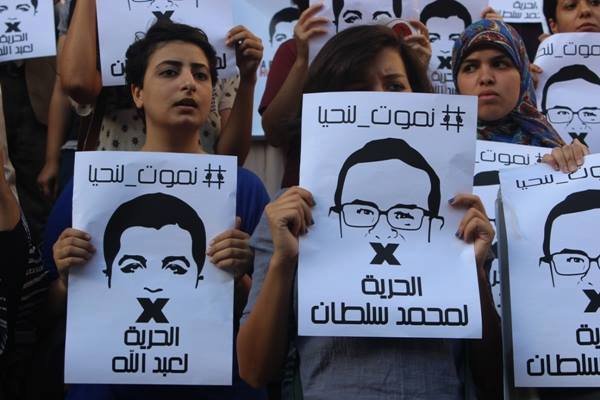 Activists protest against the detention of Mohamed Sultan and Al Jazeera journalist Abdullah Elshamy who have been on hunger strike for more than 120 days, in central Cairo,June 1, 2014 - Aswat Masriya/Ahmed Hamed
CAIRO, June 5 (Aswat Masriya) A fact-finding committee, commissioned by interim President Adly Mansour, has said that Abdullah ElShamy and Mohamed Sultan, who are held in prison and have been on a hunger strike for nearly six month, are in good health.

"Abdullah Elshamy and Mohamed Sultan are not on a hunger strike and their bodily functions are normal," Omar Marawan, head of the 30 June fact-finding committee, said in a press conference on Thursday.

Marwan said that ElShamy signed a document saying that he ended his hunger strike on May 15.
"Elshamy has acute anemia, the onset of kidney dysfunction, low blood pressure and hypoglycemia, and his weight had dropped from 108 to 68 kilogrammes," according to a letter by his lawyer that was published on May 20.

He was arrested in Cairo in August last year while reporting on police dispersing supporters of ousted Islamist president Mohamed Mursi, toppled the previous month by Sisi.

Elshamy began his hunger strike in January in protest of his detention without trial or clear charges.

The Fact-finding committee said that he is detained on account of criminal charges and not for political reasons.

His family was unable to visit him for two weeks as he is kept in solitary confinement in Al-Aqrab Prison, but the prosecution allowed their visit to him Wednesday.

They released a statement following the visit saying that they were told "incorrectly" that he was referred to the prosecution.

The statement said that his only cell window had been blocked to increase his isolation from other prisoners.

Like ElShamy, Sultan has been on hunger strike since January.

Sultan was arrested when police forces stormed his home last August in search for his father, who is a Muslim Brotherhood leader.