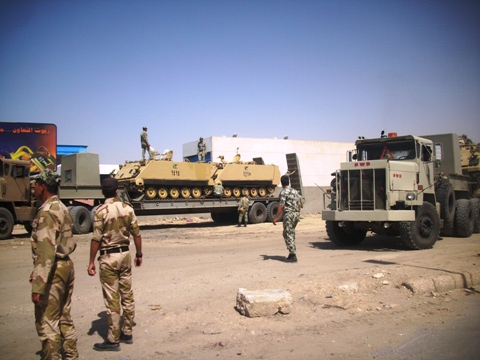 The Egyptian army sent reinforcements to the Sinai Peninsula on Monday - Aswat Masriya
Unknown assailants opened fire on a vehicle belonging to the interior ministry on Sinai's al-Sheikh Zuwayed neighborhood on Sunday.
An official source said that three State Security conscripts were wounded in the attack and transferred to the hospital to receive medical attention.
An eyewitness told Aswat Masriya that the assailants fired shots from inside a vehicle on conscripts guiding the al-Sheikh Zuwayed police station early on Sunday.
The eyewitness added that security forces responded with fire, pointing that live rounds were heard at about 10 a.m. at the neighborhood's entry but the source or whether somebody was hurt was not obvious .
Attacks on security personnel have increased in the Sinai Peninsula since the ouster of Islamist President Mohamed Mursi.
The police and army began an intensive campaign in August to capture all the outlaws and assailants and restore order to the region.