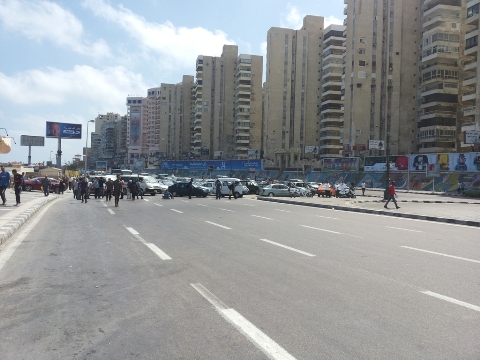 Alexandria Courniche road blocked by protesters following a speech made by President Mohamed Mursi that said he would not give up power - Aswat Masriya
A number of protesters announced civil disobedience in Alexandria on Wednesday, voicing disapproval of a speech made by President Mohamed Mursi that stated he would stay in office and defend the legitimacy of his election with his life.
The protesters closed all the main roads to traffic, which brought the city to complete paralysis.
An Aswat Masriya eyewitness said that dozens of protesters blocked the Corniche road by putting sacks of sand and stones in the middle of the street in the area of Sidi-Gaber.
The eyewitness added that the protesters also suspended the railway traffic in Alexandria.
This comes as protesters continued to obstruct Alexandria's second main route, Abu-Qir road, for the fifth day in a row.