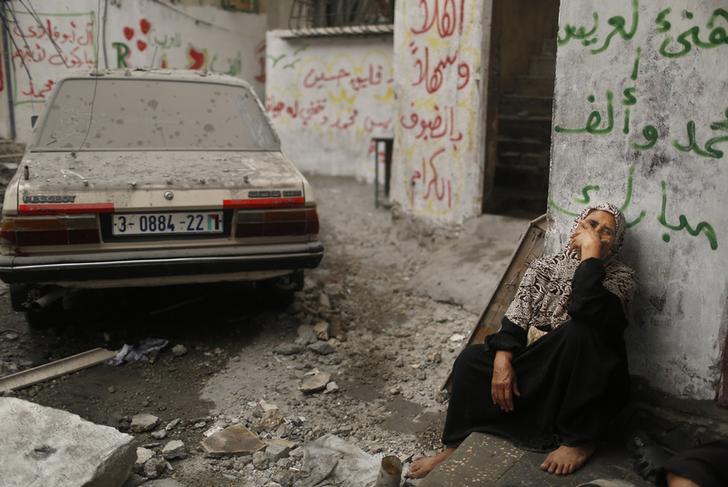 A Palestinian woman sits in a debris-strewn street as she looks at houses which witnesses said were damaged in an Israeli air strike that killed two children, in the northern Gaza Strip July 24, 2014. REUTERS/Suhaib Salem
CAIRO, July 24 (Aswat Masriya) - Egypt's army prevented an aid convoy of medical supplies from crossing the border to the Palestinian Gaza Strip on Thursday, the popular campaign to support Gaza has said in a statement.
The campaign added that the officer in charge told them he had orders to return the convoy as it did not attain the approval of the military intelligence.
On their side, the aid convoy activists said that permit from the military intelligence was not required.
"Additional security forces arrived to deport the convoy," they added.
The statement said that the army also returned the buses carrying aids from the Egyptian Red Crescent.
The army forces has blocked another convoy of 11 buses and 500 activists to Palestine last week on the premises that "the army cannot secure it".
The campaign to support Gaza, established since the Palestinian Intifada in 2001, denounced the army's 'arbitrary actions'. One of the activists said that the army has threatened them with weapons to make them go back.
At least 700 Palestinians have died since Israel started its raid on the Gaza strip two weeks ago. Thousands were wounded in the unrest.